Strawberry Chocolate Cookie Bars
For my 30th birthday party, I did something a little different – I had a cheese/chocolate/wine theme, and I asked everyone to bring one item from those three. A friend at the time brought Raspberry Chocolate Cookie Bars. I had pretty much forgotten about them entirely until the other day (this was almost 3 years ag0) when I decided to look up a recipe on Pinterest. I came across this recipe for Raspberry Chocolate Bars, but then realized I didn't have any raspberry jam. Instead, I substituted strawberry jam. I also added salt and vanilla, as I believe those two belong in almost every dessert. I halved the recipe to make thinner cookie bars in an 8″ x 8″ pan (the original recipes calls for a 13″ x 9″ pan). They are delicious! I also tried storing them two different ways ~ at room temperature and in the refrigerator. Both were delicious, just depends if you want a firmer cookie or a gooier cookie. What I love about this recipe is it contains ingredients that I almost always have in my house, so it will be my new go-to cookie when I have guests (or a craving for something delicious!)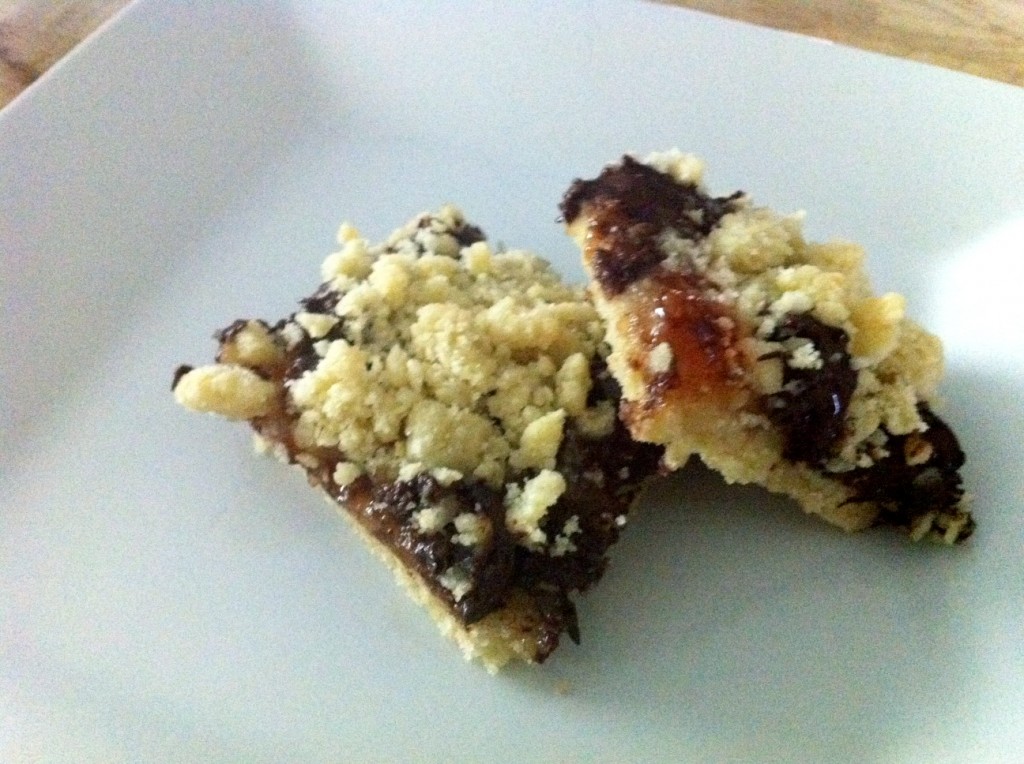 Ingredients:
1 1/4 cup flour
1/2 cup sugar
6 T butter, cubed
1 egg white
1/2 t vanilla extract
1/2 t salt
3/4 cup chocolate chips
6 oz strawberry jam
1. Preheat oven to 350 degrees. Using a pastry cutter, fork, or your hands, combine flour, sugar, and butter until it is a crumbly mixture.
2. Add vanilla, salt, and the egg white and continue to combine until you have a mixture that feels similar to bread crumbs (it may still appear somewhat dry).
3. Reserve one cup of the flour mixture. Add the remaining mixture to the bottom of a buttered 8″ x 8″ pan, pressing it down to create an even layer in the pan.
4. Spread the strawberry jam over the bottom layer. It may help to microwave it for about 20 seconds to make it more spreadable.
5. Sprinkle the chocolate chips over the strawberry jam. Sprinkle the reserved flour mixture over the chocolate chips.
6. Place in the oven and bake about 25 – 28 minutes, until the edges begin to turn a light golden brown. Set the pan in the refrigerator to cool. Cut into 16 even squares and serve.
Makes 16 servings.