In 2005, I began teaching at a local elementary school in a brand-new autism program. Most of the general education teachers had never worked with children diagnosed with autism, so the idea of including my students in their classrooms was intimidating for them. Some teachers welcomed the diversity, others did not. While the Individuals with Disabilities Education Act favors the general education classroom as the least restrictive environment for children with disabilities, it does require a lot of planning and is not always appropriate for every child.
To make inclusion successful, administrators, teachers, therapists, parents, and other school personnel must all work together collaboratively. The first step in making this happen is acceptance. Administration had to accept that inclusion may be a challenge for all involved parties, but support from the top is crucial. Teachers had to accept that children with autism would be present in their classrooms, and this would require extra planning to make sure the lessons could be adapted to all learners. Parents had to understand that because this was a new program, it may take some time to organize schedules, pair students with paraprofessionals, and learn how to make all the necessary accommodations and modifications.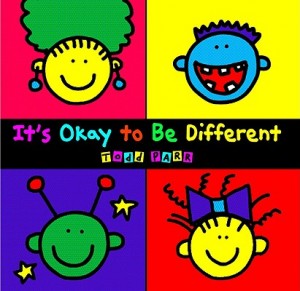 But then we had to look one step further. In order for children to truly be accepted in a general education environment, they must feel acceptance from their peers. I came up with a lesson I presented to primary grades regarding accepting others who are different.
The lesson began by reading the book It's Okay to Be Different by Todd Parr. This is an awesome young children's book with vivid illustration. It presents children with all different types of scenarios that make each individual a little different, like eating mac n cheese in the bath tub or wearing glasses. This leads to a great discussion on what makes each of us special. I usually pull one child from the group who looks very different from me, and ask the other children to recognize our similarities and differences. Children may recognize that we both have eyes, we both talk, and we are both people – those types of similarities. They may notice that we have different hair color, we are different sizes, and we wear different clothes. Then we talk about people in the children's personal lives who are different. Usually a child will mention a relative who uses a walker or wheelchair. Maybe someone who speaks a different language. We talk about how everyone we love is different, and we need to celebrate all those differences.
Talking to young children about similarities and differences is exciting, as they are much more accepting and open to others' unique qualities than adults. I usually mention that there will be some new friends in the class who may need a little extra help. After this discussion, there are always a few students who really want to partner up with the new children in the class and help them in whatever way possible. I love presenting sensitivity training lessons in the primary grades!