I've always loved gardening. I remember when I was probably about 11 years old, my dad helped me build a little garden area in our yard. The only thing I remember successfully growing were some purple-colored beans that turned green when they were cooked. I remember boiling them myself in the microwave and serving them as part of our dinner. When I was in college, I had lots of potted plants on my balcony. I probably have a photo of them somewhere, but I don't know where that would be! Remember, we weren't digital then.
We moved into our current home in Spring 2009. In Spring 2010, we decided to construct a raised-bed herb & veggie garden. Here was our original garden.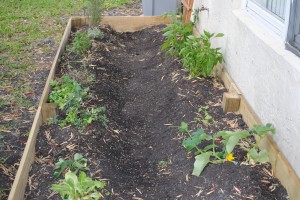 The harsh mid-summer weather in Florida generally makes it difficult to maintain a garden, so by fall, almost everything dies. In the Spring, I am always inspired to start up my garden again. Here's a picture of our 2011 garden. Anyone who reads my blog regularly knows we did a huge backyard makeover last summer, and this was just a small part of it.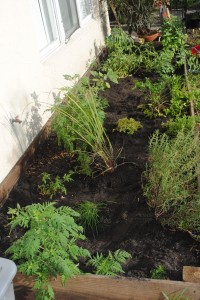 This year, I wanted to change things a bit. I wanted to get more plants into a smaller space, and I did so by purchasing 3 x 3 grids (not sure of the exact measurements of the openings, but the grids fit perfectly over the existing raised bed garden).
So here's what it looked like before we did anything to it. The only surviving plant was Thai basil that I believe we bought 2 years prior.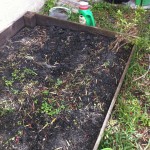 Then we added two grids and a few plants. We placed the grids at each end and left the center area open for vine-like plants (e.g. tomatoes, squash).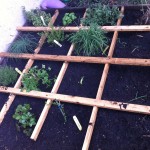 After a few weeks, everything started to grow in a bit. However, it all got covered with red flowers from our bottle-brush tree.
And yesterday, several weeks later, this is what our garden looks like! We have tried almost all the herbs, two small eggplants, and the arugula. It all tasted so fresh and delicious. Lydia loves helping me water the garden each day. What a great learning experience for the children!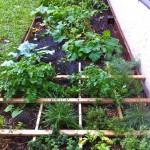 In our garden, we have: thyme (two kinds), oregano (two kinds), basil (two kinds), arugula, broccoli, blackberries, kale, eggplants, tomatoes (two  kinds), squash, peppers (multiple kinds), rosemary, chives (two kinds), strawberries…I think that's everything! Some plants began as seeds in my food in my refrigerator, while others began as small plants. I water my garden once daily, and add extra soil, compost, or organic fertilizer as needed. Overall, pretty simple up-keep. I love gardening!