I cannot begin to tell you how excited I am about this new blogging series I'm creating! Let me start with a little history. Last summer, Richard and I began talking about moving. First locally, but then we began to think outside of South Florida and talked about moving to Gainesville, my college town, about 5 hours away. I absolutely love Gainesville for so many reasons, and the idea of raising a family there truly warmed my heart. In October, we visited to do some house hunting, and we really narrowed things down to one particular community. We visited again in December, looked at more homes, and even found our 'dream home'. Then January happened… in an effort to gently cut ties with Piper High School, where he had worked for 12 years and attended high school, he transitioned into a job for the school district. With this job came a whole new set of responsibilities. The idea was to build his resume before our big move. But something unexpected occurred… Richard realized that he loved this new job and did not feel ready to move. One of my personal/professional reasons for moving was to finally have my own office space. My blogging began to take over our home. Paperwork everywhere, blog props everywhere, my computer and camera and phones and everything all over the house. I needed my own space. So we made a decision: convert the enclosed patio into an office. This was such a fun process. I'm going to begin with a history of this patio space.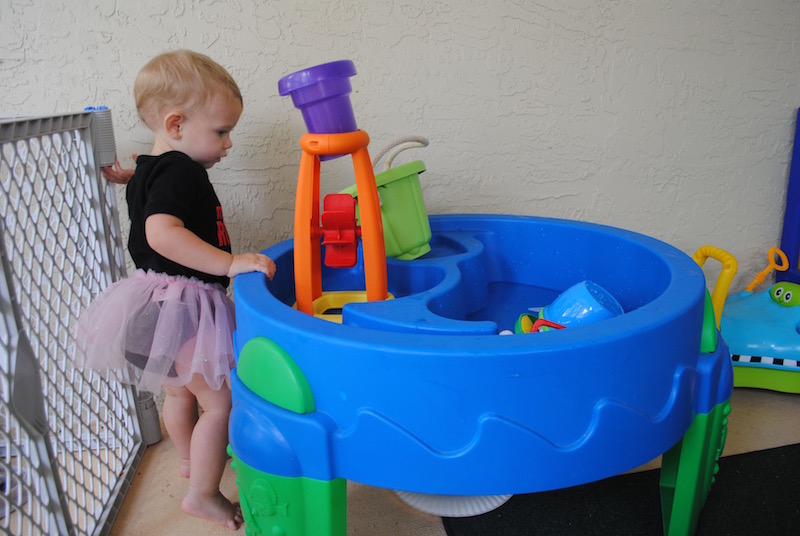 We moved into our home in March 2009 (happy 7th anniversary to my house!) Since then, the enclosed patio has served many purposes, as evidenced by all of these photos. Initially, we used it as a place to keep the dogs (in that baby gated area) and a place for Lydia to play. We had lots of toddler toys, like the water table, little push cars, and a small picnic table. Over the years, we did tons of craft projects out there!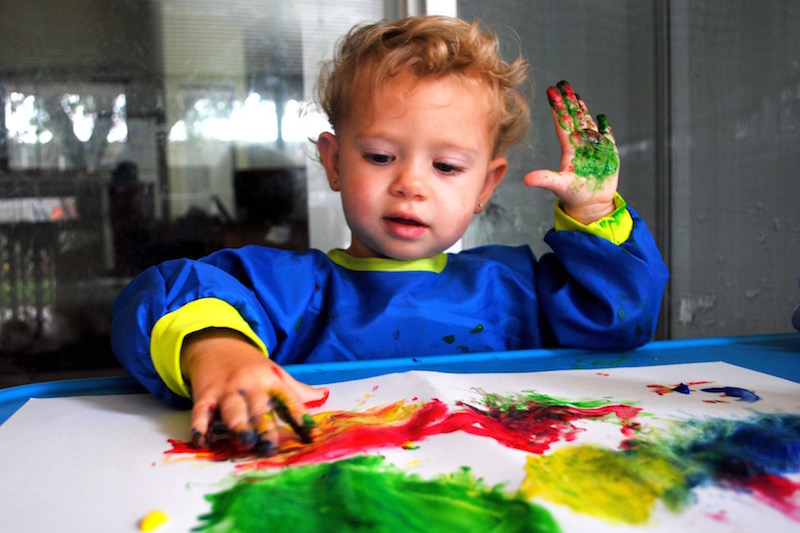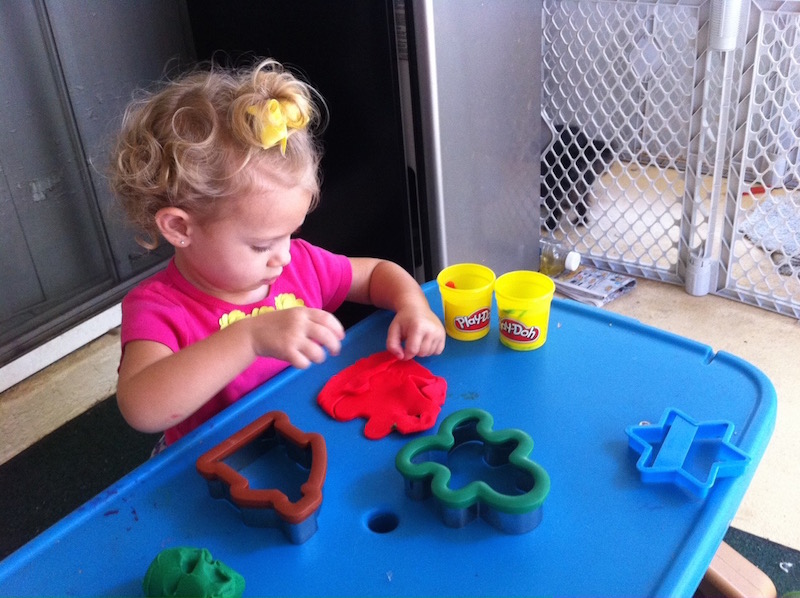 And then we had Bryce, and we expanded upon the variety of toys, activities, and art supplies available for the kids to use. Before Lydia began VPK, we spent a lot of time doing themed projects together out on the patio.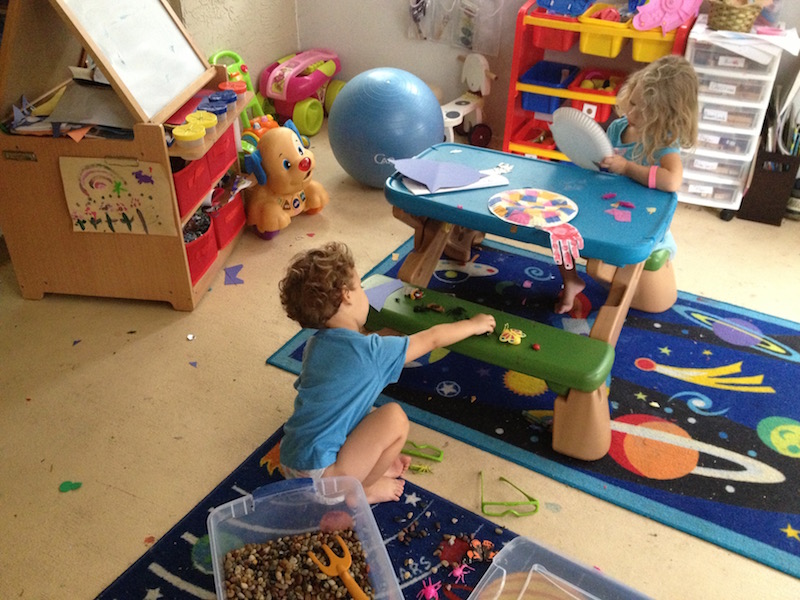 Through my partnership with Guidecraft many years ago, we got some great pieces of furniture, like this easel. The kids would paint together. It was like a little homeschooling indoor/outdoor classroom.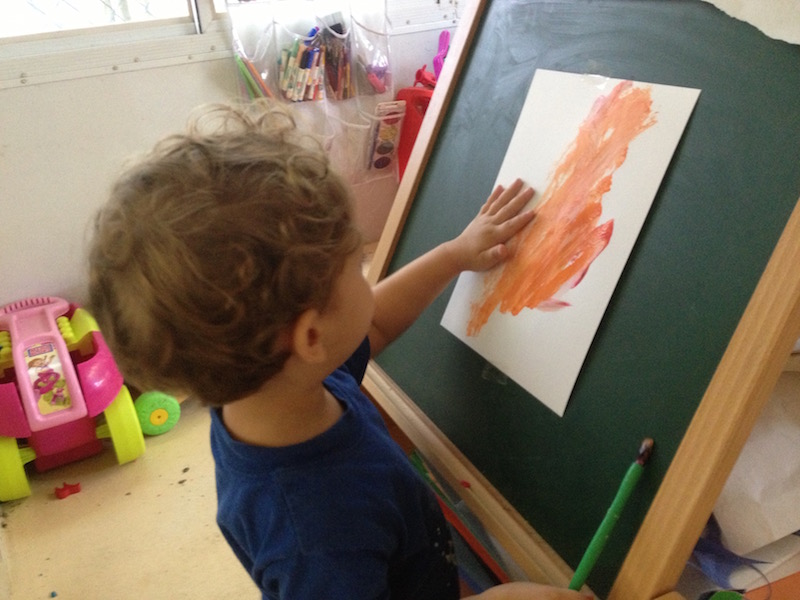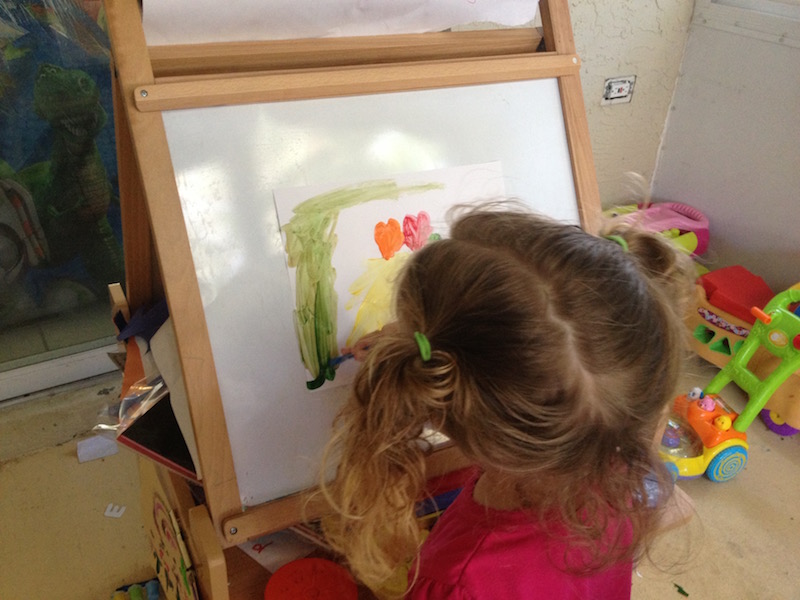 But then Lydia went to VPK, followed by Kindergarten. And this year Bryce started school. So we moved the cats (and their litter pan and food dishes) out there, and the kids went in the patio less and less. Basically, it just became a storage area for toys that were rarely used.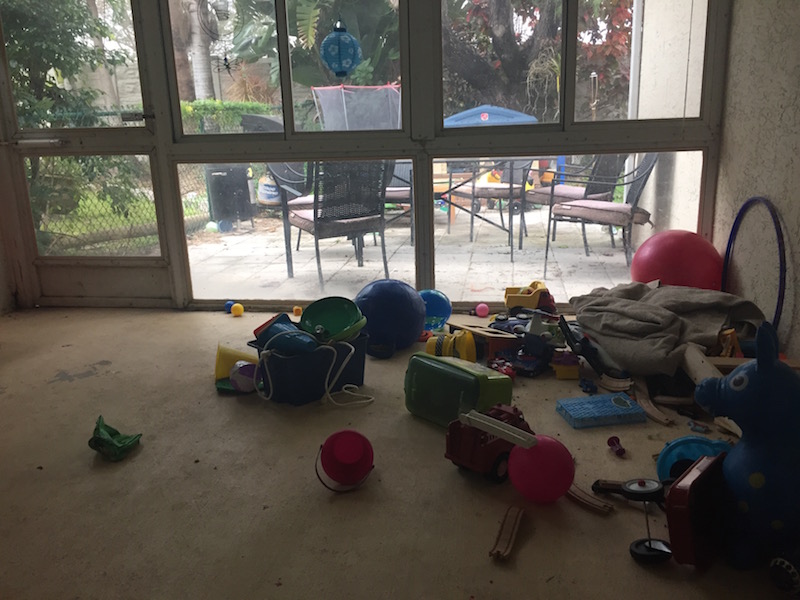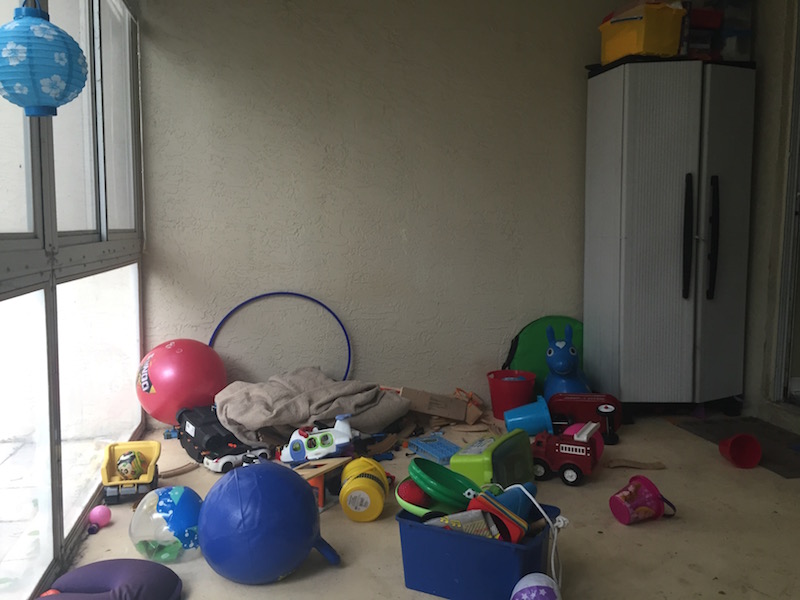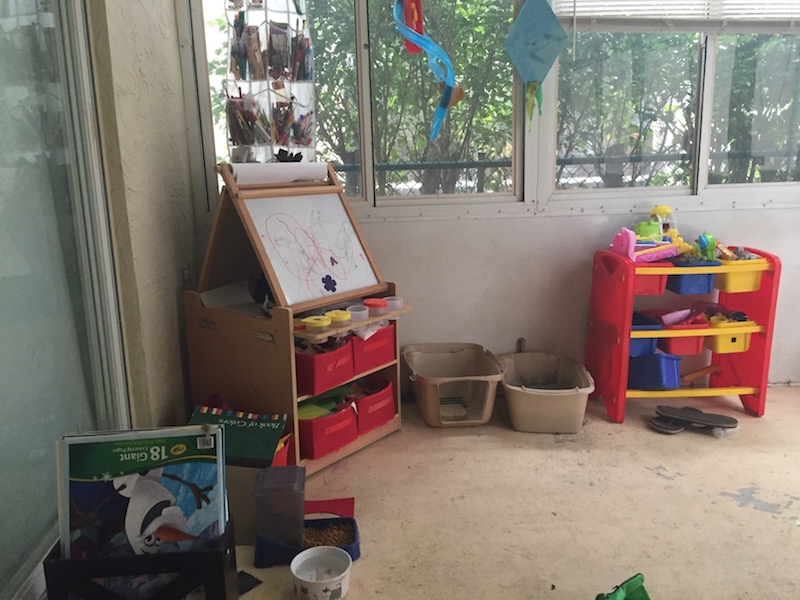 That meant it was time to bring life back to the room. I had to begin by clearing the space out and cleaning it up. While I love the idea of getting organized, I loathe actually having to do the dirty work! And let me say… this was A LOT of dirty work to do!  And I *may* have a problem with purchasing too many craft supplies. I also have a lot from when I was a teacher, and people tend to give me craft supplies as gifts. But to get truly organized, I had to sort through all of them, and so I did.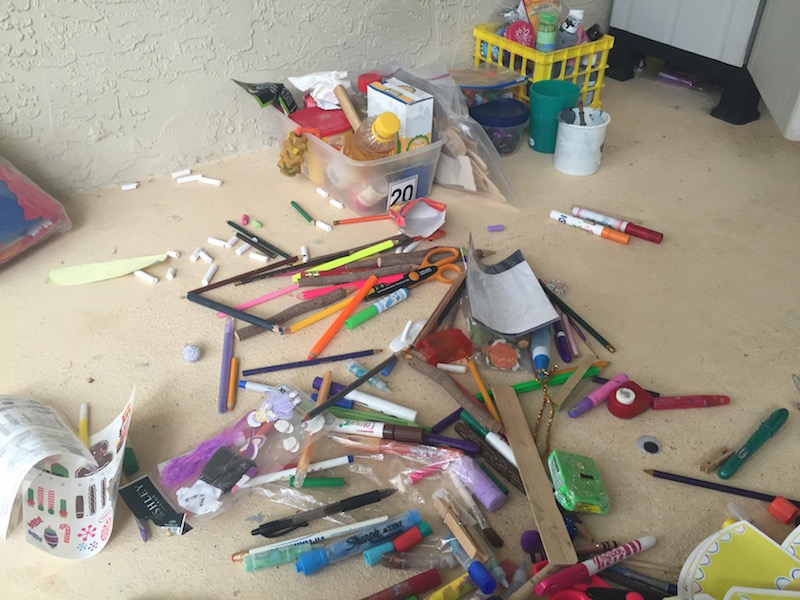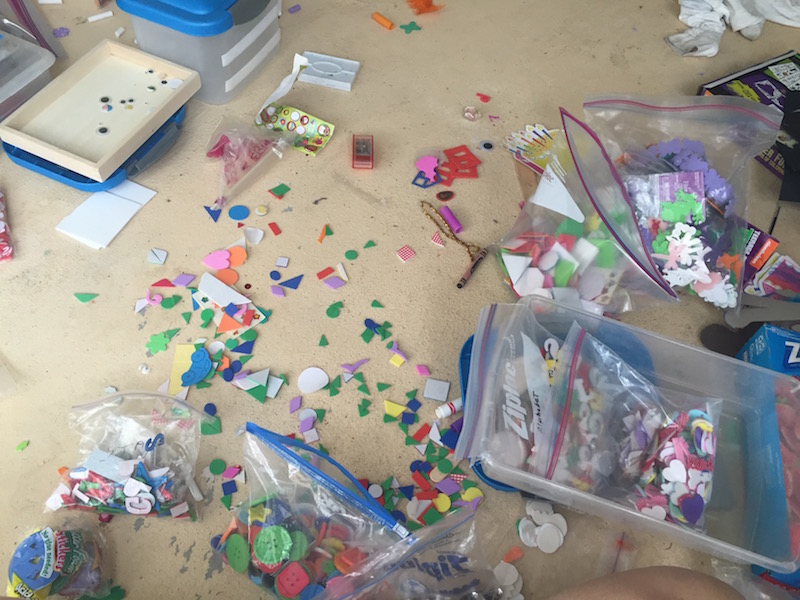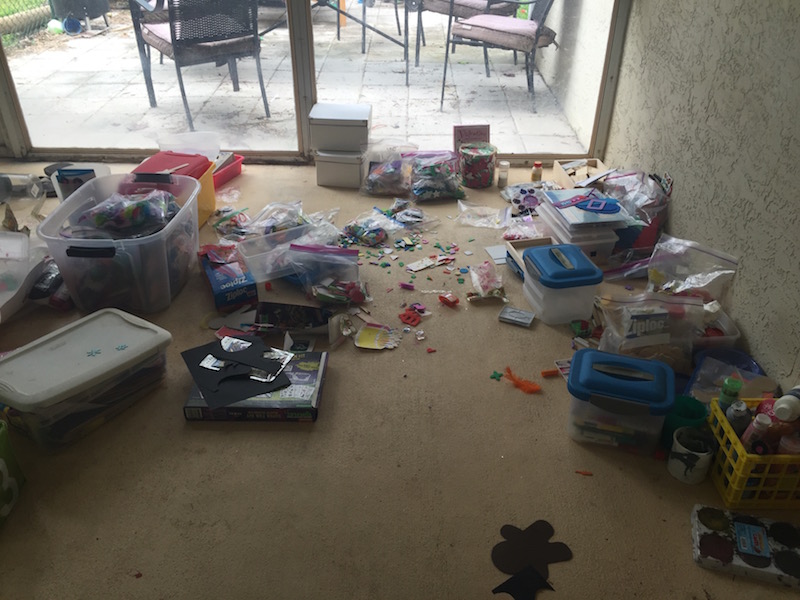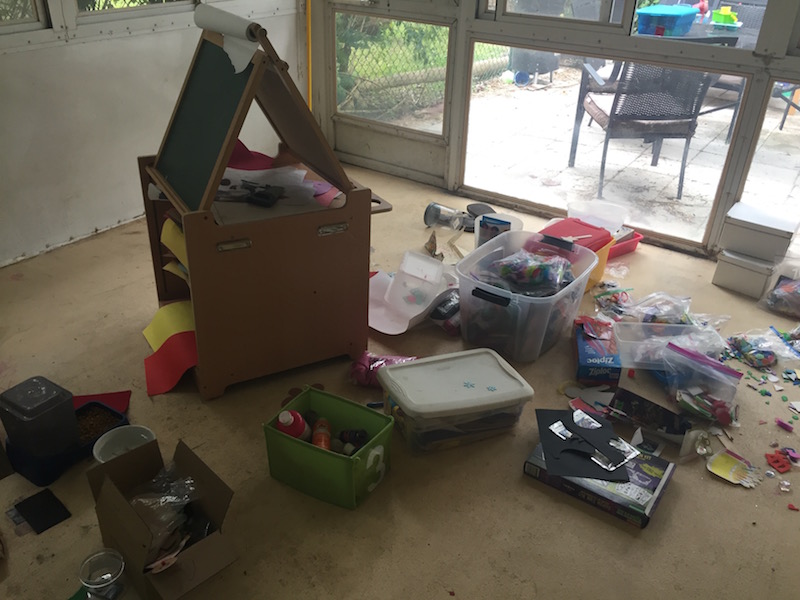 Can you tell how much work this was? Yes, I actually sorted every-last-one of those foam shapes. They were sorted into individual zipper bags and moved to a cabinet in my garage. I repurposed colored bins from a broken piece of furniture in the patio as craft storage.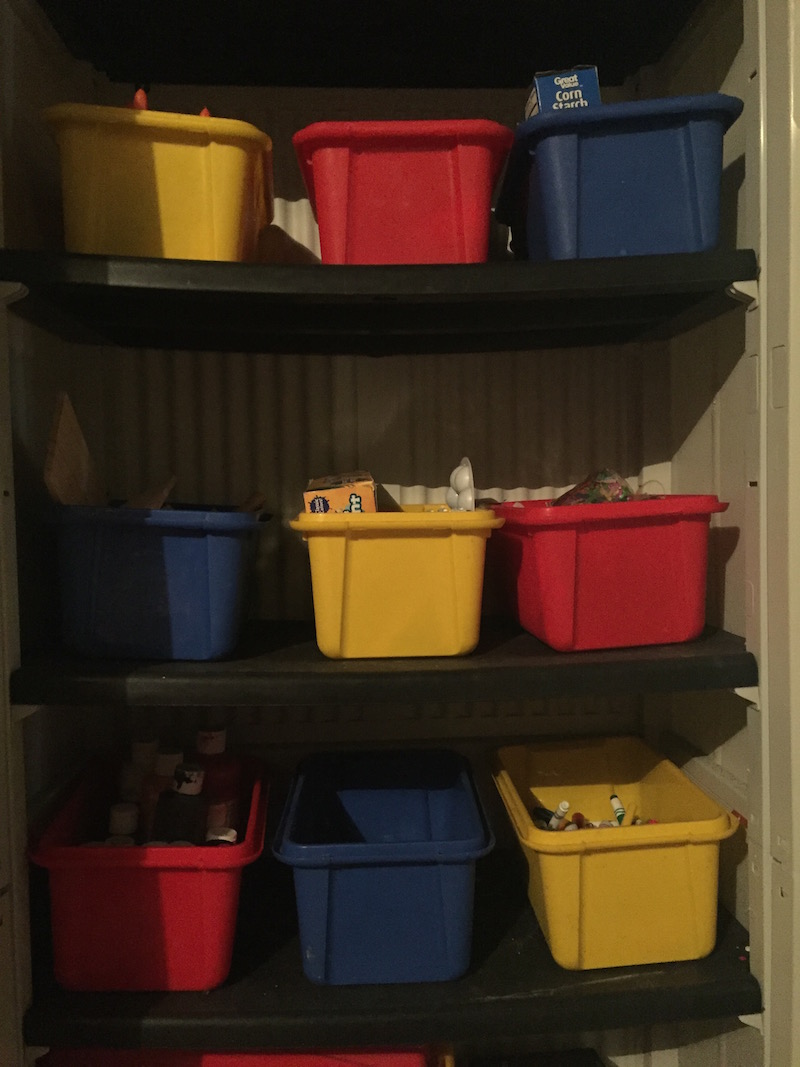 This is quite embarrassing, but when you remove everything from your patio, it pretty much destroys your family room. This is dreadful, but here's how it looked during the process. <cringe>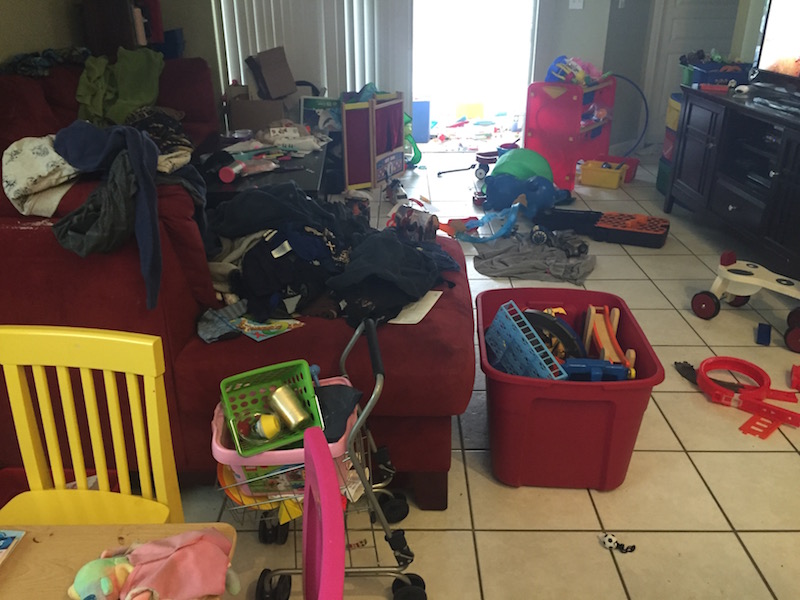 Finally, after a day of sorting, cleaning, organizing, purging, and going pretty crazy in the process, it was finished! Richard was so supportive – he helped me each step of the way. He even swept the floor when it was ready. The cool thing about this room is that it is entirely enclosed – the walls/windows are made of plexiglass, and the home's roof extends over the top. Which means it is perfect for an office space!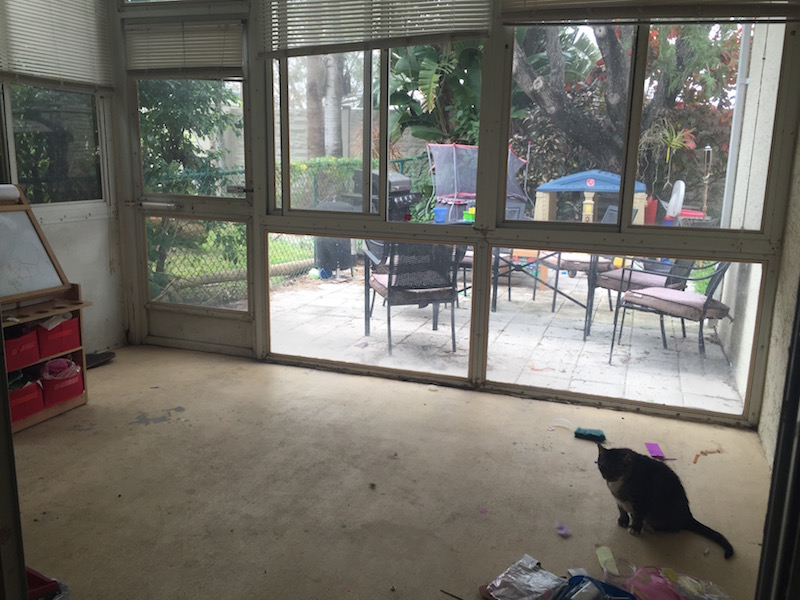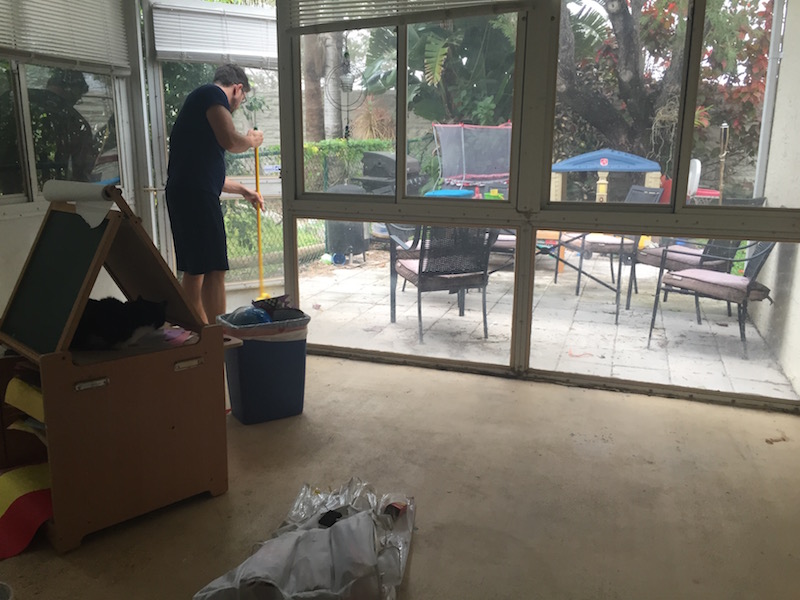 And then, the room was ready to be tiled. That's where I will begin the next blog post: selecting the colors.