I'm really excited about this product review and giveaway! I learned about Hip Peas natural hair care products just last week from a fellow blogger…and coincidentally, I happened to be looking at our conventional detangler & mousse thinking — There's gotta be something better for my daughter's curly hair…right? Well here it is!
Hip Peas is 'the cure for tots with unruly locks' (have you seen my daughter's wild curls?). Founded by a mom looking for a natural alternative for her daughter's hair (sounds like me), Hip Peas products are free of parabens, petrochemicals, phthalates, and sulfates. They smell delicious, thanks to natural extracts and essential oils. Hip Peas created 6 different products:
Hair detangler (8 oz) ~ makes hair shiny and easy to comb through
Hair balm (2 oz) ~ great for slick styles, spikes, and mohawks
Curl tamer (8 oz) ~ creamy weightless formula that tames frizz and enhances curls
Cradle cap care (5 oz) ~ clears flakes while moisturizing the scalp
Shampoo body wash (8.4 oz) ~ leaves skin and hair soft and clean
Clean kids wipes (30 wipes) ~ gently and safely removes grime from face, hands, and body
We got to sample the hair detangler, hair balm, and curl tangler. I used all three on Lydia's hair after it had dried. Here's the before (left) and after (right). The curls were tamed, but her hair did not feel stiff as many traditional curl products leave hair feeling. Later on in the day, I even tried pigtails, which came out so cute!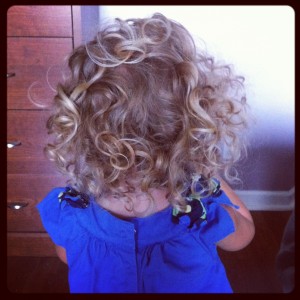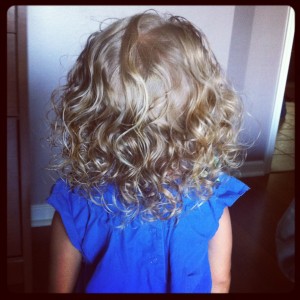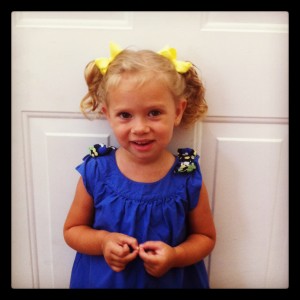 Then I decided to try some of the hair balm to give Bryce a faux-hawk. He was not so patient with the picture-taking, but his hair looked super-cute from the side. His hair didn't feel hard, but it did help keep the faux-hawk in place.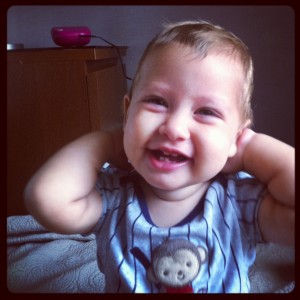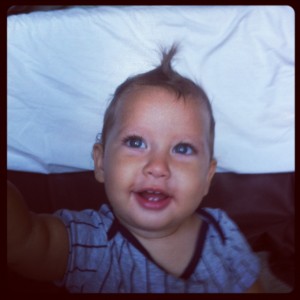 At just over $10 each, Hip Peas products may cost a bit more than the inexpensive children's haircare products you find at the drug store, but you can trust they are safe for your children…and to get a great look, you need a very small quantity of product, so they last longer, too. I think I used maybe a penny-sized amount of the curl tangler and a dime-sized amount of the hair balm to get the looks above.
BUY IT! Check out the Hip Peas website and Amazon to purchase the products described above.
WIN IT! You can win the Hip Peas hair detangler, hair balm, and curl tangler for your child (RV $35). Enter below!
*I received the aforementioned products for free to review. The opinions expressed are honest and provided without monetary compensation.