I received these Hanna Andersson fashions in exchange for an honest review.
My kids had the privilege of going on an awesome mini-shopping spree at the new Hanna Andersson store at The Falls in Miami. It was awesome! The styles are so colorful and fun, each piece is well-made, and the kids (especially Lydia) couldn't wait to try on their new looks. The current available styles are wonderful because they are great for holiday pictures, but can also be worn as everyday cool-weather clothing. Versatility is key to great children's clothing. Check out our awesome fall fashions for kids.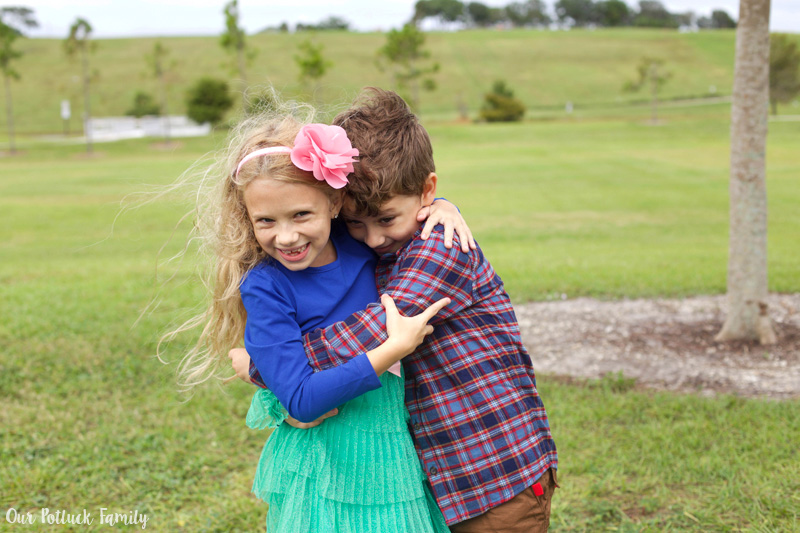 Lydia used to be the girl in pink from head-to-toe, but lately, she's really liked to wear blue. Luckily, we were able to find the perfect blue dress at Hanna Andersson. It's the Girls Shimmer Dress! What's fun about this dress is the color-blocking: royal blue on top, pink around the waist, and glittery sea green on the skirt. Definitely a unique combination of colors. This dress is also available in three other fun color combinations.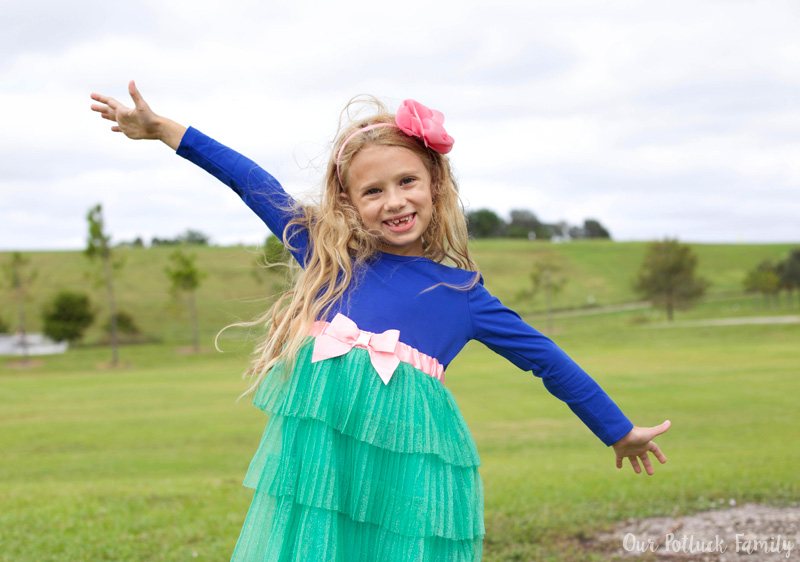 We went to a birthday party at a park, so I decided this dress would actually look cute with a pair of sneakers, perfect for running through the grass and enjoying the playground equipment. Because you cannot attend a friend's birthday party without the perfect party dress. Add some Mary Janes and fancy socks to dress it up for fall photos.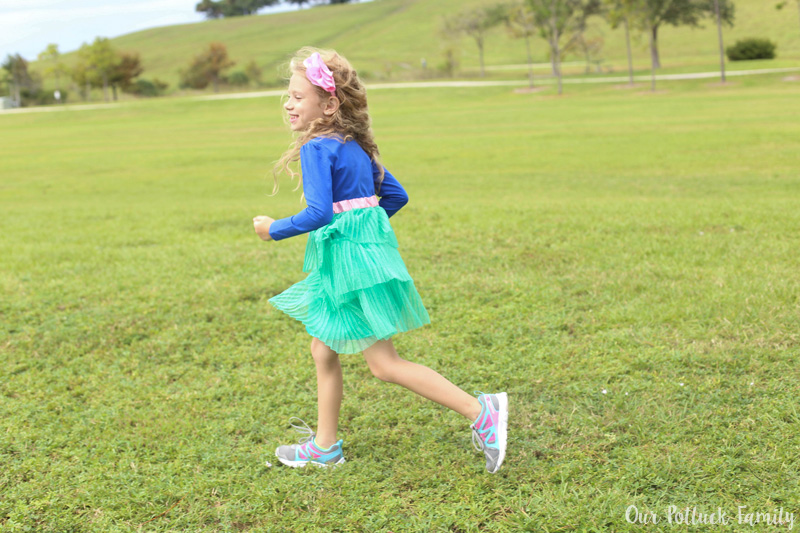 For Bryce, I found a great rugged, outdoor look. This long-sleeve, button-down shirt is made of a cotton flannel that is both durable and soft. I love the combination of red and blues. The little red tags on the brown pants pick up the color in the shirt perfectly. These jersey lined cargo pants feature an elastic waistband (so much better than snaps/buttons for younger kids). They are available in a variety of solid colors and patterns.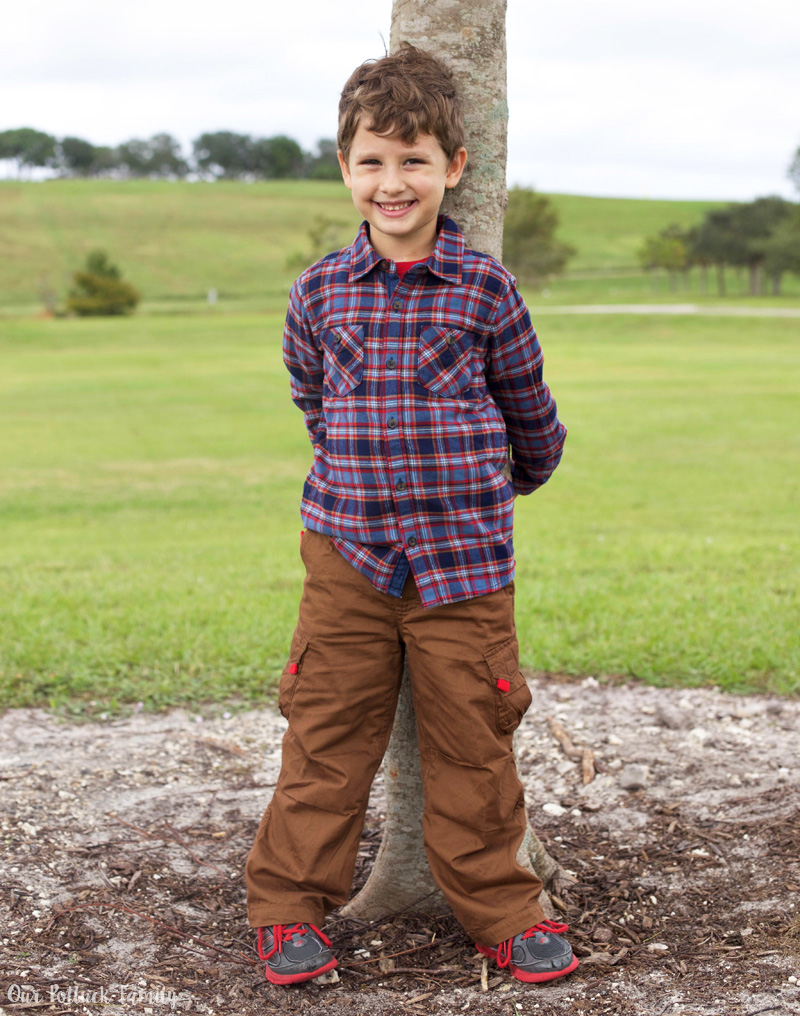 Bryce is a rough-and-tumble kinda kid, so he needs clothing that can withstand playing with sticks in the dirt. Because these pants are lined, they are warm, comfortable, and great for outdoor play. The large pockets are perfect for hiding all of Bryce's "collections" (e.g. rocks, acorns, shells).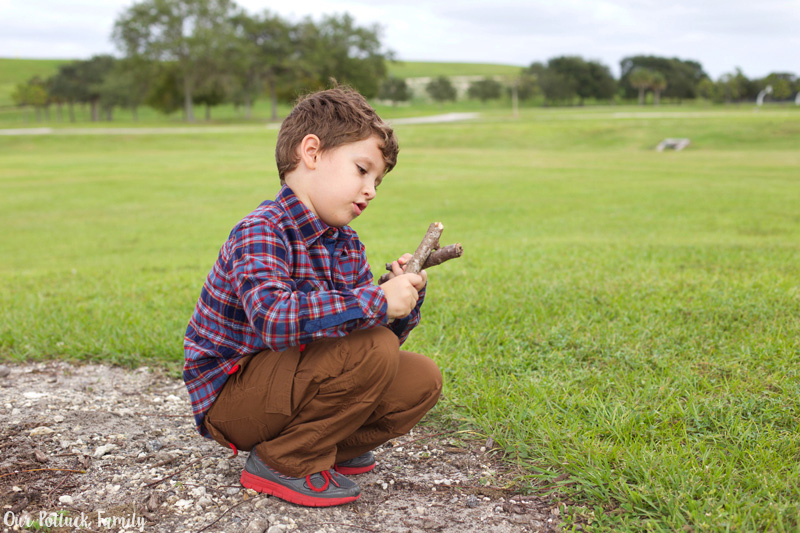 Ready to buy some beautiful, well-constructed clothing for your children? Head to a Hanna Andersson store or shop online for playful, colorful kids fashions!

BUY IT! Visit the new Hanna Andersson store at The Falls in Miami or find a store near you. Visit the Hanna Andersson site to sign up to receive sales information via email and shop for online exclusives, like shoes!
WIN IT! Post a pic with #hannajams to Instagram, twitter, or Facebook and share your family traditions for a chance to win your family matching pajamas or a $500 gift card.