Four years ago, I started making these Chocolate-Gingerbread Cookies for Christmas to decorate with the kids, and I've maintained this tradition since (2011 photos & 2012 photos). I make a few variations to the recipe, which I will share with you here, as well as pictures of the cookies we made this year. To decorate the cookies, I make a standard buttercream frosting, but you can use the icing in the recipe linked above. I also use M&Ms, sprinkles, and chocolate chips.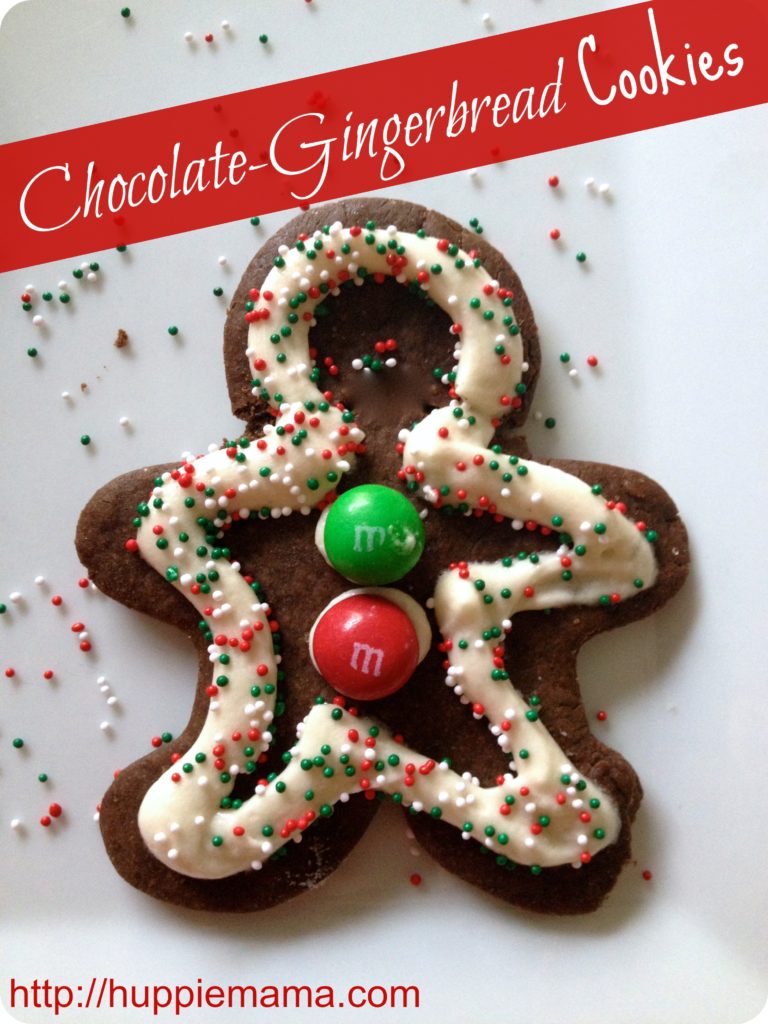 Ingredients:
3 1/4 cups all-purpose flour, plus more for dusting
1/3 cup unsweetened cocoa powder
1 tablespoon ground ginger
2 teaspoons ground cinnamon
1/2 teaspoon ground cloves
1 tablespoon baking soda
1/2 teaspoon baking powder
1 teaspoon salt
1 stick unsalted butter, softened
1/2 cup (packed) brown sugar
1 large egg, at room temperature
1/2 cup molasses
2 ounces bittersweet chocolate, melted and cooled
Directions:
In a medium bowl, whisk the flour with the cocoa powder, ground ginger, ground cinnamon, ground cloves, baking soda, baking powder and salt. In the bowl of a standing electric mixer fitted with a paddle, beat the softened butter and the brown sugar until fluffy, about 2 minutes.
Add the egg to the cookie batter and beat until incorporated. Beat in the molasses and then the melted bittersweet chocolate. Add the flour mixture in 3 batches, beating between additions. Divide the dough into 3 equal parts. Shape each part into a disk, then wrap each one in plastic wrap and refrigerate the cookie dough until chilled, about 2 hours.
Preheat the oven to 350°. Line 2 large baking sheets with parchment paper or silicone mats. On a lightly floured work surface, roll out 1 disk of dough 1/4 inch thick. Using cookie cutters, cut the dough into shapes and transfer to the prepared baking sheets.
Bake the cookies for about 7 minutes, rotating the pans halfway through baking until the tops are dry. Let the cookies cool on the pans for 5 minutes, then transfer to wire racks to cool completely. Repeat the process with the remaining dough.
Decorate cookies with your favorite candies & enjoy!