Men's hair goes through weird trendy phases. When I was in high school (1993 -1997), every guy seemed to want that post-90210-craze hair that was parted down the middle, grown to the ears, and shaved underneath. When I was in college (1997 – 2002), all the guys had just cut their hair short, dyed it blonde, and had no facial hair, while a few guys were still trying to pull off an early-to-mid 90s 'grunge-y' long hair thing. When we started our careers (2002 – 2006), the goatee was in. Then no facial hair again. And now… the beard. I feel like the beard started about 5 years ago when the whole "no shave November" trend began, and since then, what started as a 5 0'clock shadow is now a full-blown lumberjack trend. I thought I'd be resistant to beards, but I must admit to actually liking Richard's beard. What surprises me about this trend is that it doesn't matter what a man's overall style is; it's popular among the most conservative guys, young guys, older guys, hippie guys, etc. Check out this hilarious video for more "Beard Bros"!
—> Save 10% + free shipping on Lovely Beards products with code Beards10 <—
You know how your man can make his beard look great? Lovely Beards!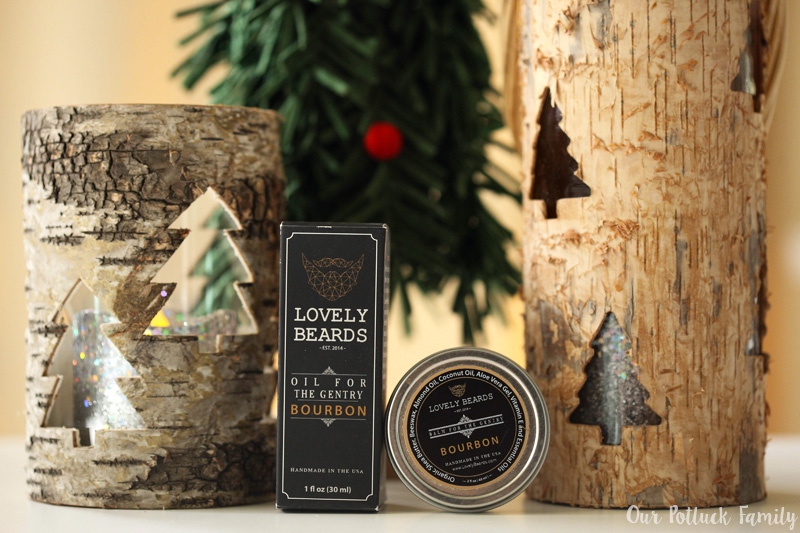 There are two awesome products: Beard Oil and Beard Balm. They are available in the following varieties:
Gingerbread
Vanilla & Sandalwood
Mandarin & Cedarwood
Bourbon
Nectarine Mint
Unscented
Black Pepper
Richard is a bourbon guy, so I chose the bourbon variety for both the beard oil and beard balm.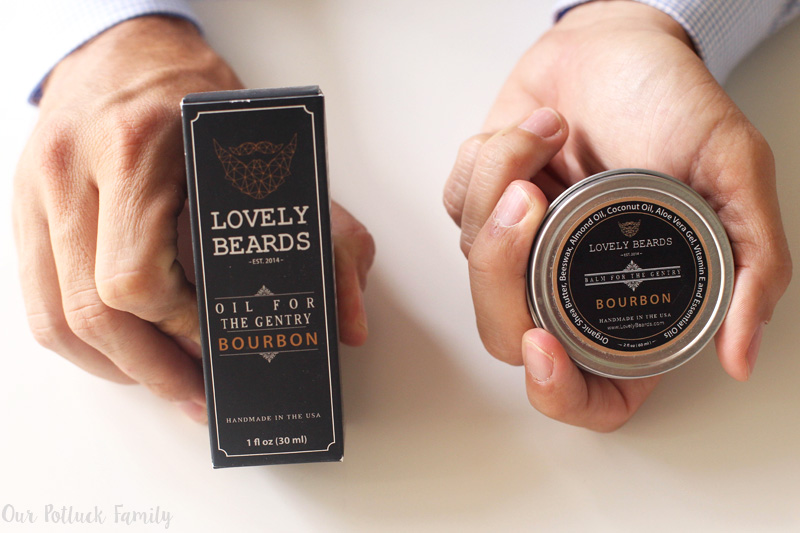 The Lovely Beards Beard Oil makes beards healthier and softer. It also prevents it from being itchy, dry, and flaky (like the dandruff on your scalp). The ingredients are awesome: joboba oil, grapeseed oil, hempseed oil, kiwi seed oil, avocado oil, vitamin E, and essential oil for fragrance. Just a few drops, and your skin and hair are well-moisturized.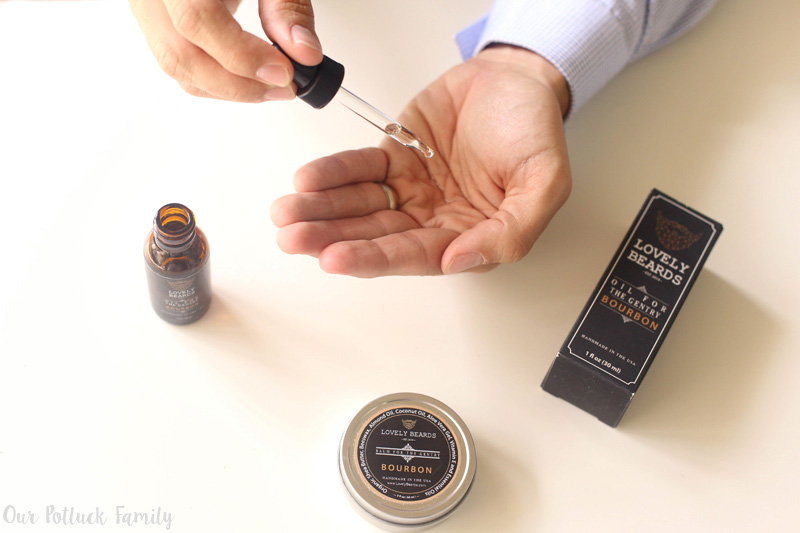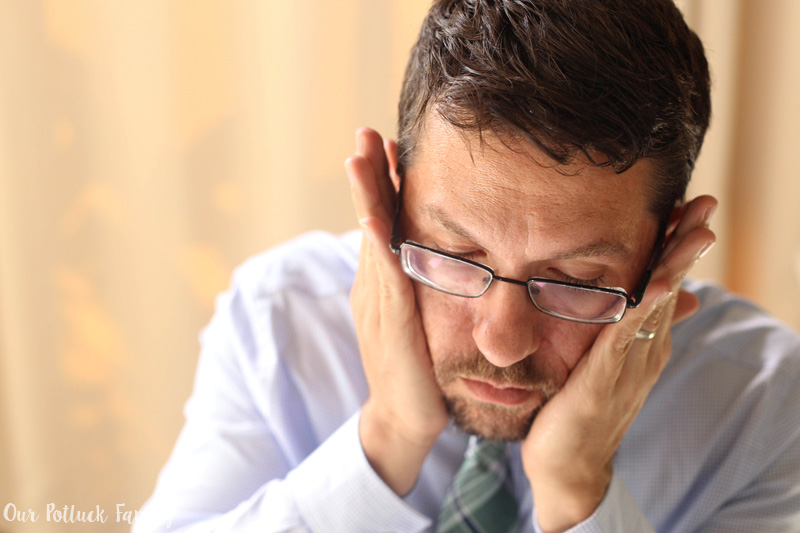 The Lovely Beards Beard Balm helps men look distinguished, rather than messy. It helps maintain your beard under any weather conditions, from sweaty humidity to freezing cold. The 100% organic ingredients include shea butter, beeswax, almond oil, coconut oil, aloe vera gel, vitamin E, and essential oil for fragrance.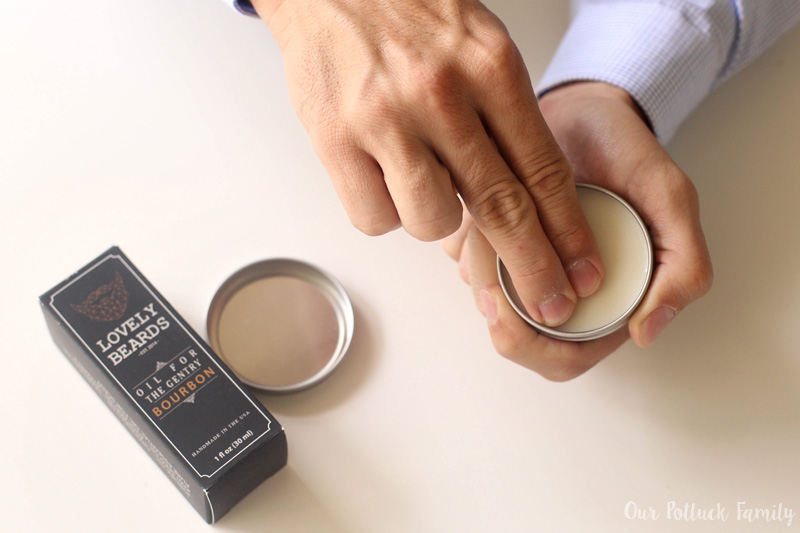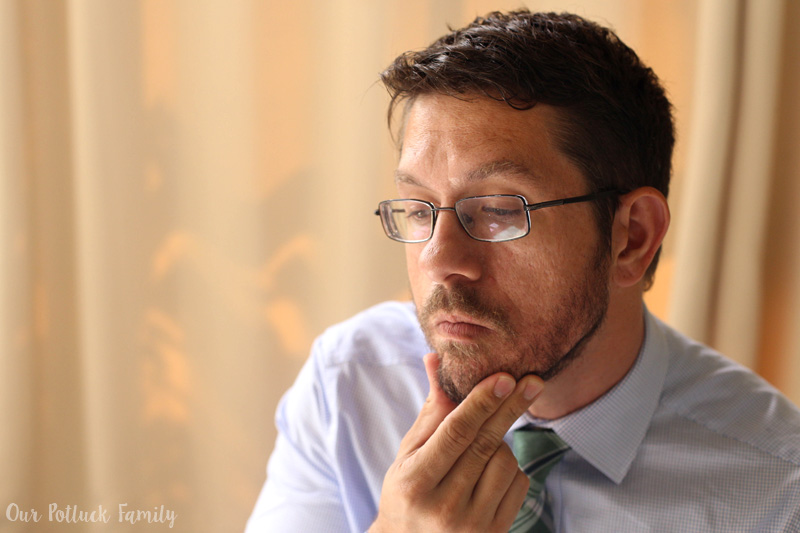 These products are both perfect for everyday use. They make great stocking stuffers for any bro on your list!
—> Save 10% + free shipping on Lovely Beards products with code Beards10 <—