This shop has been compensated by Collective Bias, Inc. and its advertiser. All opinions are mine alone.
After almost 34 years of nail-biting, I finally stopped biting my nails last month — hooray for me! I was at a blogger event in early June, and a blogger friend of mine said something about my bitten-down nails. Around the same time, my husband mentioned it, too. I set a goal to quit biting my nails — and I did! So what does that mean for me now? I can finally embrace all of the trendy nail art I've been missing out on for so many years. I cannot afford regularly-scheduled manicures, so for the past month, I've been buying nail polishes like crazy, but I really try to get the best prices. I learned about the Walgreens app recently, with paperless coupons that can be selected on your phone, added to your Balance Rewards card, and scanned at the register for savings.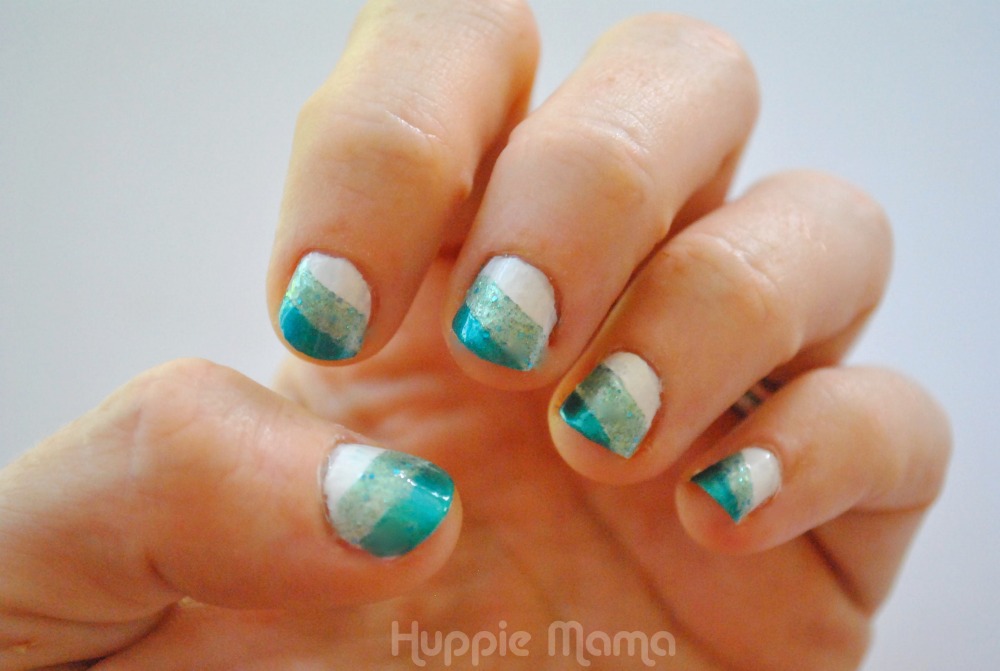 Now it's time to share with you this awesome manicure idea. It's the perfect manicure for short nails or long nails and super-easy to do. I am not able to make straight lines using those special little nail brushes, so I had to figure out a "cheat" to get my nails looking more professional. Here's the secret: painter's tape. I chose colors that captured living by the beach.
Step 1: Select your first color. This color will be the color on the bottom third of your nail. I suggest using a color that does not have any glitter as that texture will affect the next two layers. Paint two coats and allow it to dry thoroughly.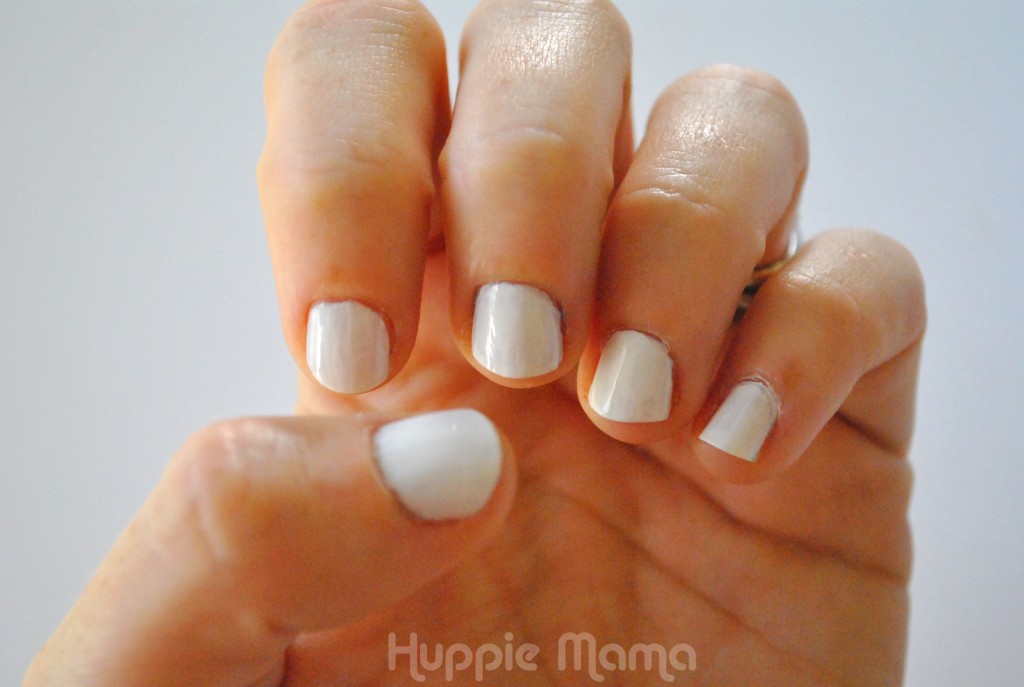 Step 2: Take painter's tape and cover up the lower third of your nails at an angle.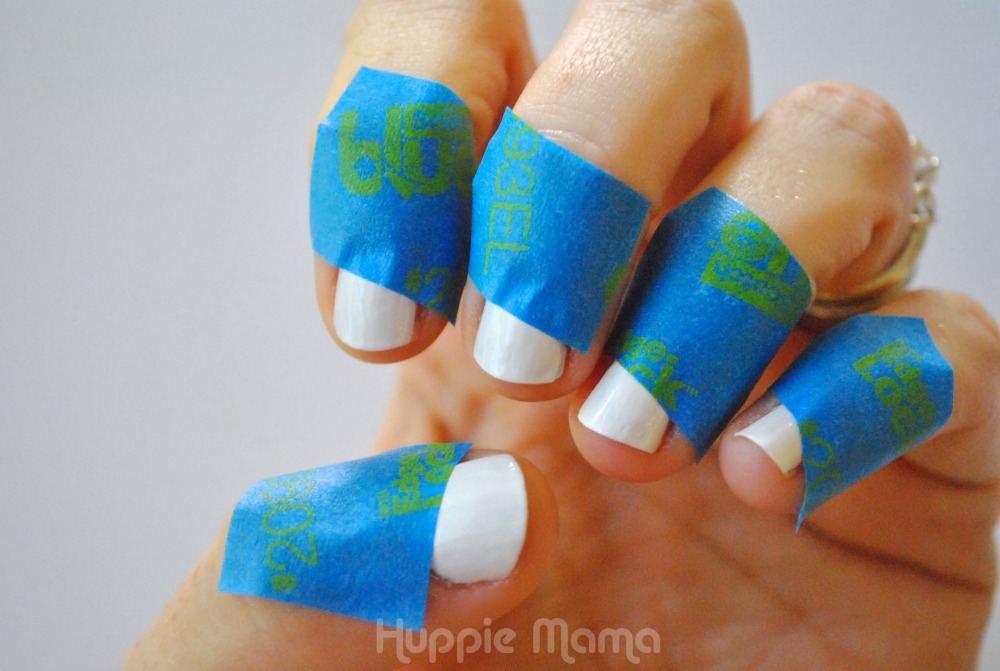 Step 3: Paint the remaining two-thirds of uncovered nail your second color. Allow it to dry thoroughly.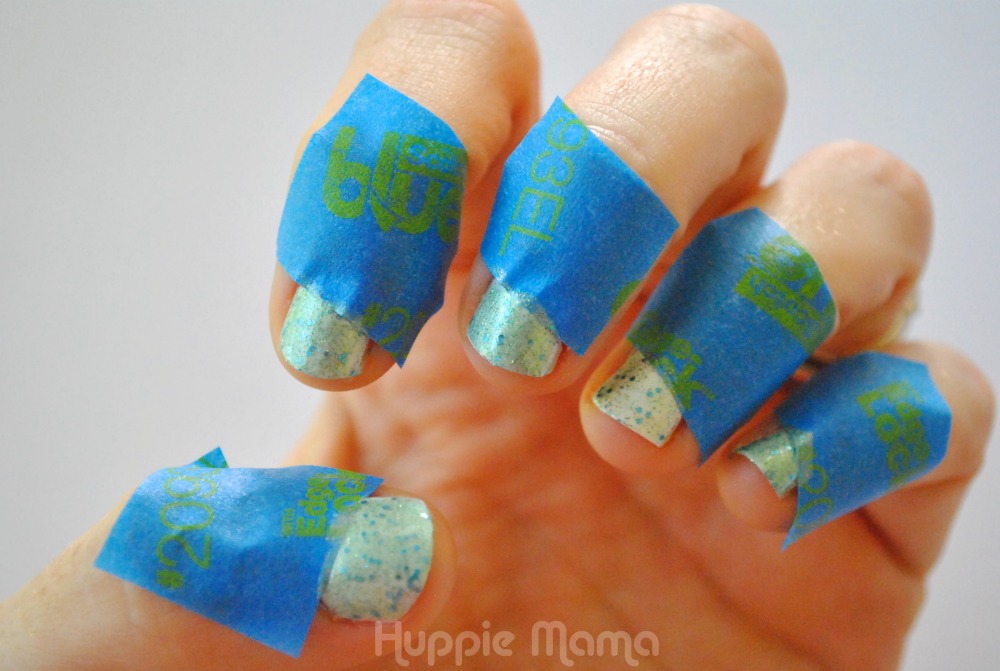 Step 4: Carefully remove the painter's tape. It should look something like this.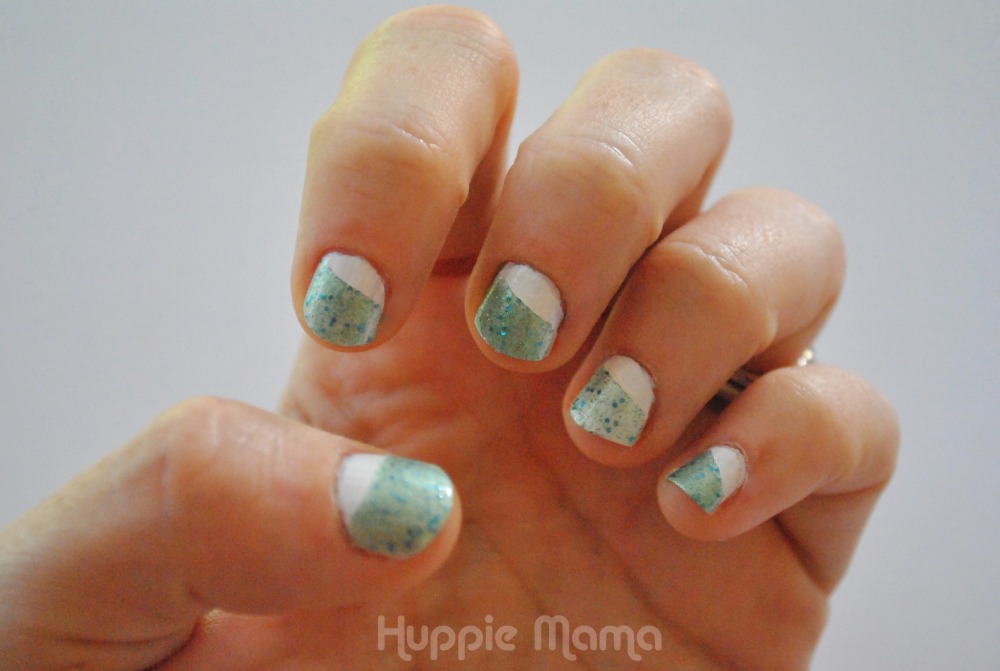 Step 5: Use the painter's tape to cover the lower two-thirds of your nails at an angle. Paint the remaining one-third of uncovered nail your third color. Allow it to dry thoroughly.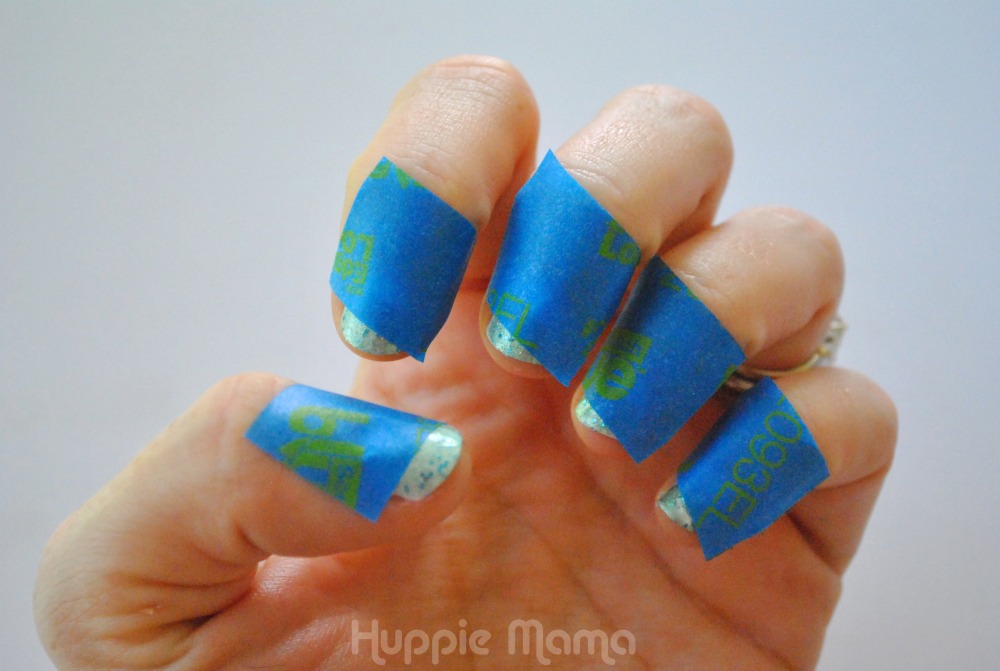 Step 6: Remove the painter's tape. Apply a top coat, either shiny or matte depending upon your preference, and it's finished!
I achieved this look using the following nail polishes:
Revlon Parfumerie in Wintermint
Covergirl Outlast Stay Brilliant #290
Maybelline Color Show in Porcelain Party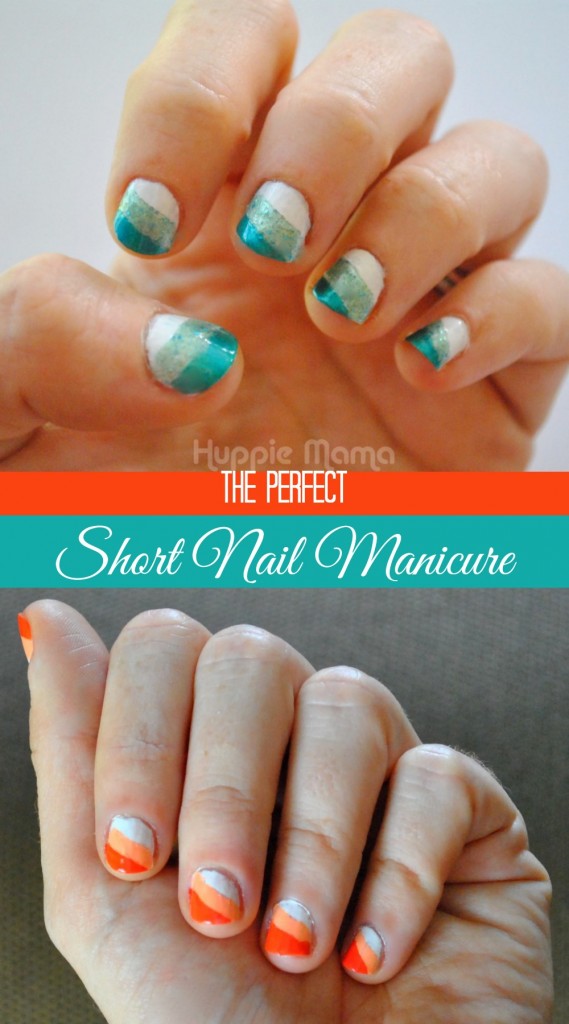 If you're looking for an alternative set of colors, I achieved this look using the following nail polishes:
Sally Hansen Hard as Nails Xtreme Wear in Hot Tamale
Maybelline Color Show in Pretty in Peach
Maybelline Color Show in Porcelain Party
Looking for awesome savings without having to clip coupons (and organize them and remember to actually bring them to the store)? Download the free Walgreens app on to your smartphone. Then, just create a log in using your Balanced Rewards card and browse your favorite categories, like Beauty, Diet & Fitness, and Healthcare. "Clip" the coupons you would like to use and start shopping.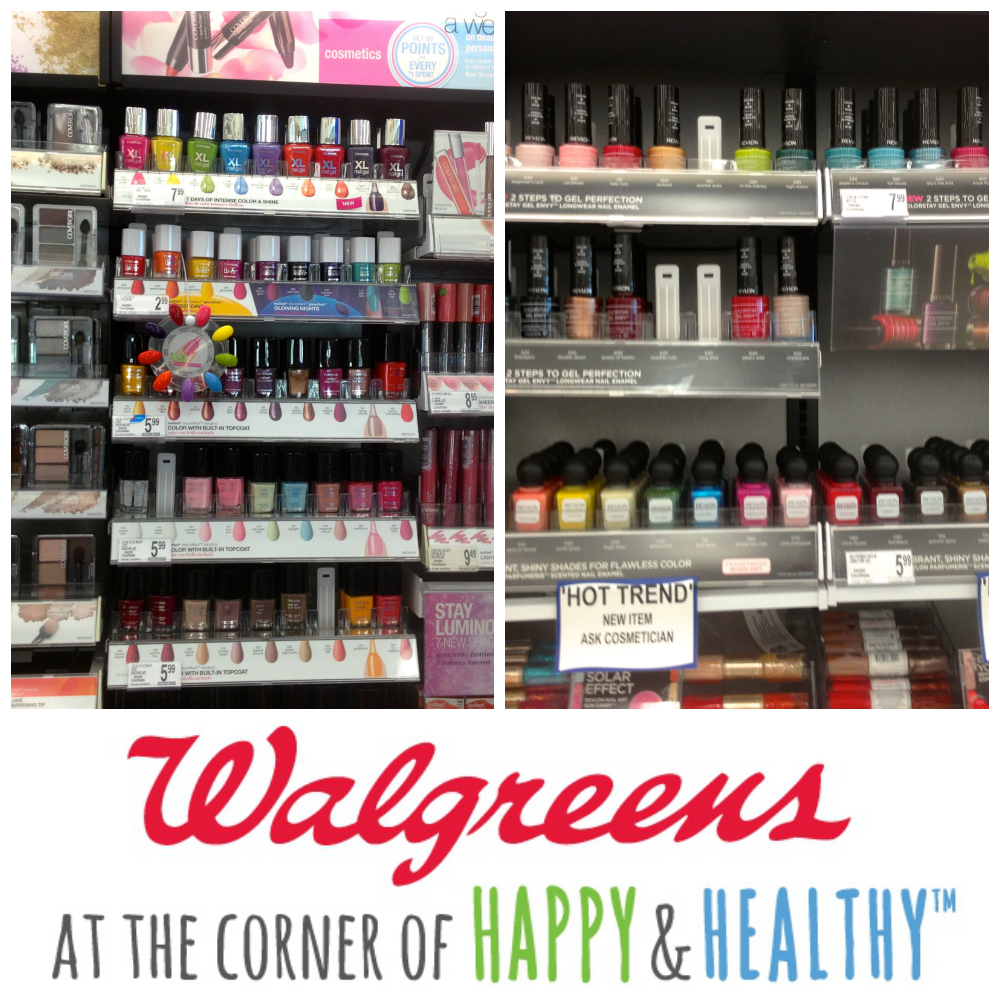 I used a $3 off Revlon coupon and a $3 off Covergirl coupon. To redeem your coupons after 'clipping' them, have the cashier scan either your app, Balance Rewards Card, or input your phone number to automatically apply the discounts. Once they have been redeemed, the coupons will be automatically deleted from your clipped coupon list.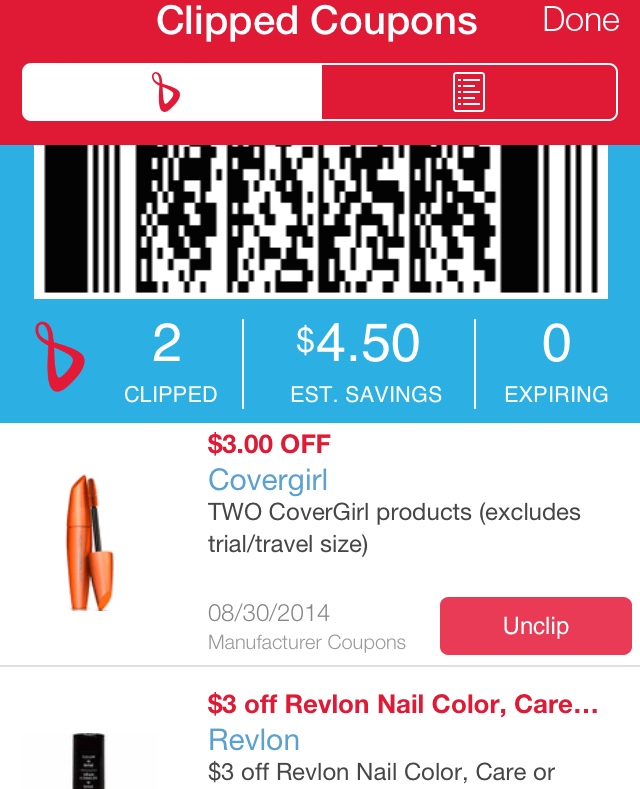 And what could I do with my savings? Buy more nail polishes, of course! Thanks #CollectiveBias for helping me to save on my new nail polish obsession with #WalgreensPaperless Coupons.