This month, the Guidecraft Educators are reviewing the Magneatos Better Building Series 100-piece set. This set contains a variety of red, yellow, green, and blue straight pieces (in two sizes), curved pieces (in two sizes),  and round balls – and all the pieces are magnetic!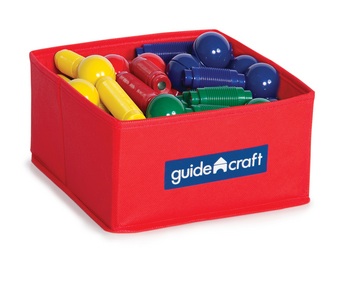 When the Magneatos first arrived in the mail, my dad was over my house, so Lydia and Grandpa got to play with them. They had so much fun together!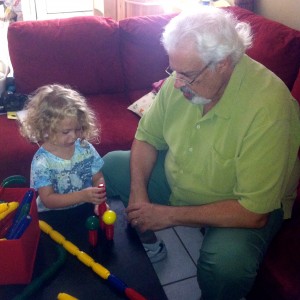 We also played together as a family with close supervision – Lydia (3), Bryce (1), me, and my husband.
This was our dog in a dog house.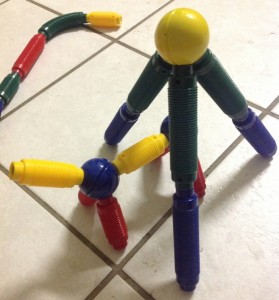 This was the animal hospital that Lydia built.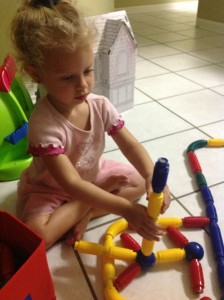 Then she turned her Magneatos into a play phone so she could call her imaginary friend, Abby.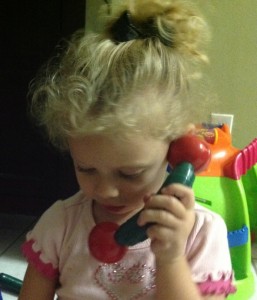 Then I use the Magneatos to write Lydia's name.

The Magneatos come with a 20-page Activity Guide that has lots of different ideas for structures you can build, like pyramids, bridges, and tall towers. These would also be great for sorting tasks (by shape and/or color) for younger children and learning magnetic principles for older children. Clean up is super-easy because they are light-weight and stick together, so you can move them right into the red fabric bin (included with set).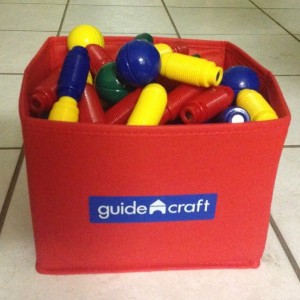 BUY IT! The Magneatos Better Building Series are available in 30-piece sets (RV $50), 60-piece sets (RV $99.95), and 100-piece sets (RV $159.95).
WIN IT! What's great about this Guidecraft Educator group is that each month, one of us will be hosting a giveaway of the product that we have all reviewed. Visit Mommy PR for a chance to win a 100-Piece Magneatos Set for a special child in your life. This contest is open to the US and Canada.
Visit these other great blogs to read more Guidecraft Educator reviews:
*I received the aforementioned products for free to review as a Guidecraft Educator. The opinions expressed are honest and provided without monetary compensation.