This month, the Guidecraft Educators are reviewing the Peekaboo Lock Boxes: Set of 6. What a great fine motor toy! This set of six wooden lock boxes is ideal for learning shape, color, and spatial relationships. Sort the shapes into the appropriate boxes, view them through the transparent, colored windows, and unlock the doors to retrieve them!  The chunky, solid wood shapes are easy to grasp, and all six boxes fit into a handy storage tray. Each lock box measures 4.2"W x 4.2"D x 4.2"H.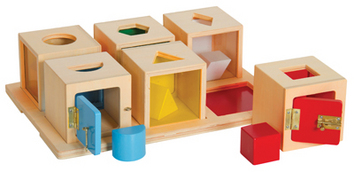 From the moment I opened the box containing these toys, my children were intrigued. They couldn't wait to figure out how to open each box to retrieve the shape. Lydia (3.5 yo) was able to use logical reasoning and fine motor skills to open each different lock and remove the colored block. Bryce (1.5 yo) was able to remove the colored block and place it back inside each box if the lock was undone for him. Because there are 6 separate boxes, this is an easy toy for multiple children to share simultaneously.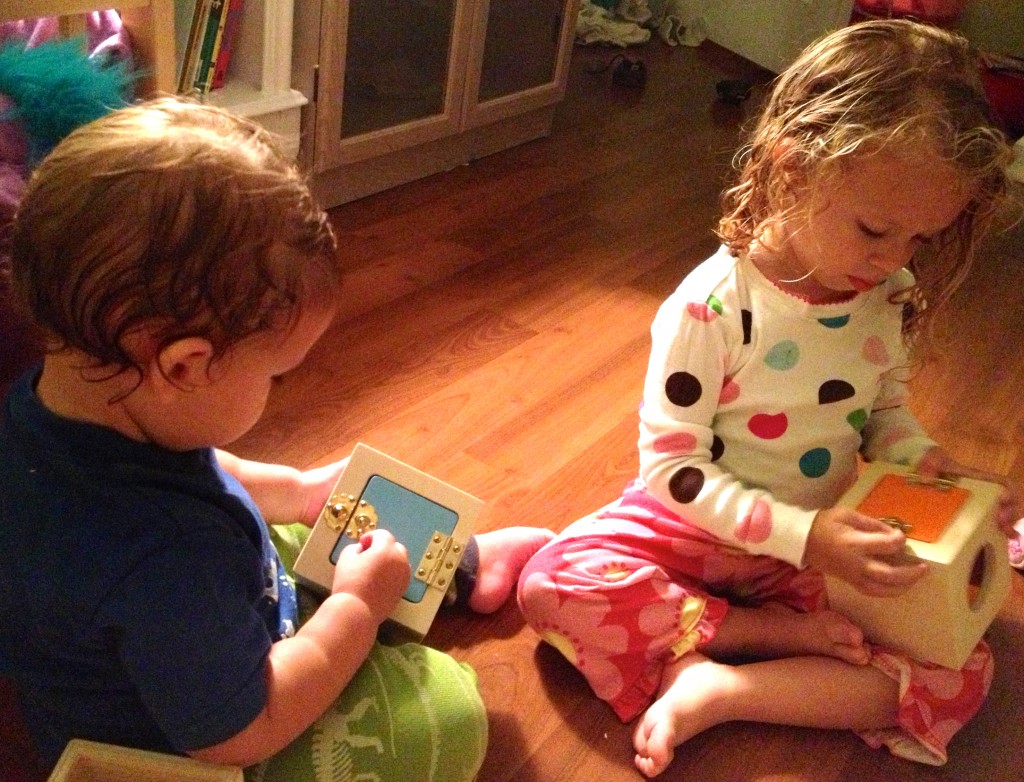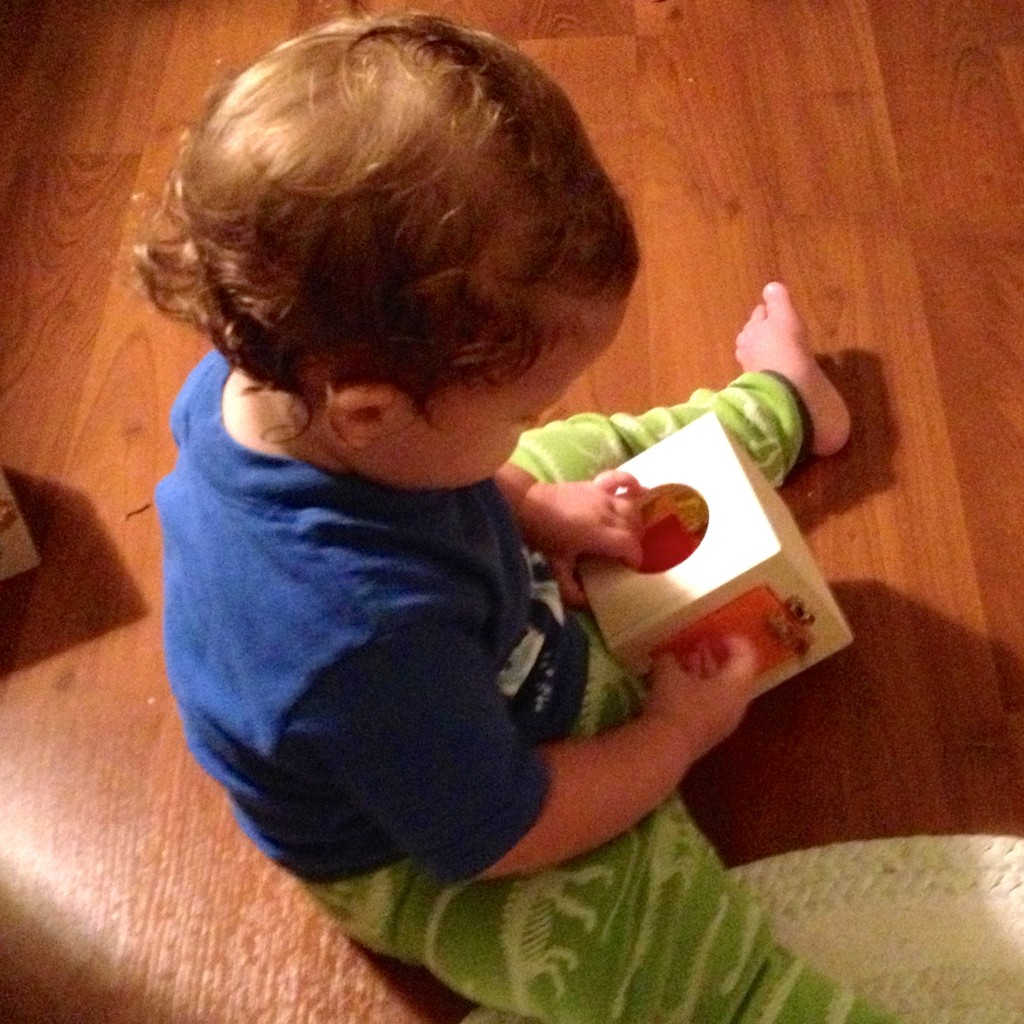 Lydia decided to get creative – She said all the different shapes were cakes, she sorted them into the different colored squares on the tray, and asked each of us which cake we wanted. Fun!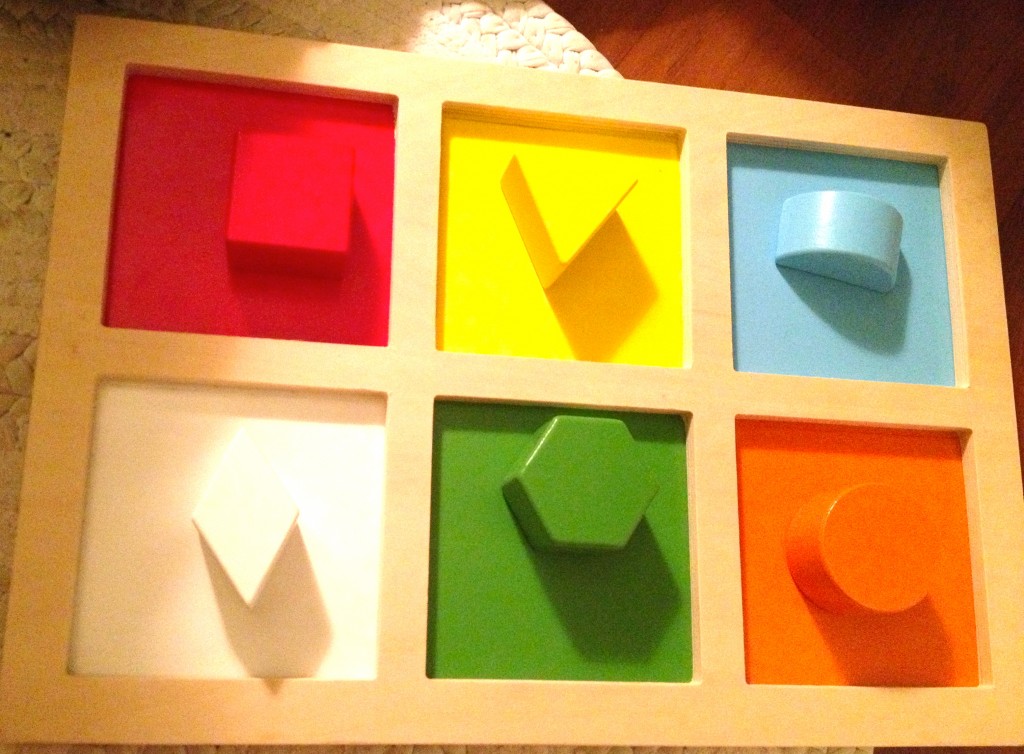 This is the type of educational toy that children request to play – After playing last night, my daughter asked to play again this morning. These Peekaboo Lock Boxes by Guidecraft would make a great addition to a fine motor center in a preschool classroom, an excellent tool for occupational therapists, and a fun toy for all children ages 2 to 6 to play with at home.
Visit these other great blogs to read more Guidecraft Educator reviews:
BUY IT! Visit Guidecraft to purchase the Peekaboo Lock Boxes: Set of 6 (RV $90).
WIN IT! What's great about this Guidecraft Educator group is that each month, one of us will be hosting the giveaway of a product that we have all reviewed. This month, visit Planet Weidknecht to enter to win the Peekaboo Lock Boxes.
*I received the aforementioned product for free to review as a Guidecraft Educator. The opinions expressed are honest and provided without monetary compensation.