Rarely do I say that a product has had a genuine impact on my life and the lives of my family members…but this one certainly has! My 2.5-year old daughter would ask me daily if she could help me cook. Problem is, I had no way for her to help me without preparing food on the floor, which just isn't sanitary. Guidecraft's High Rise Step-Up has changed our lives!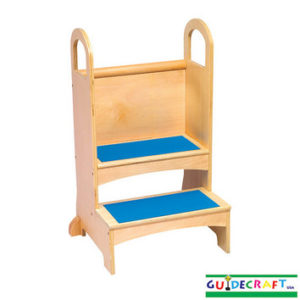 As my readers know, I spend a ton of time in my kitchen, and instead of taking that time away from my children, I love bringing them in to help me. Honestly, every day, Lydia asks if she can bring her 'stairs' in the kitchen to help me cook. She gets so excited to mix the ingredients, sniff the ingredients, taste them, and ask questions about everything I am doing. The sensory and language benefits are endless! Usually, I plan a time to take photos of the products that I review. I have naturally taken probably a dozen different pictures of Lydia helping me cook with her High Rise Step-Up. Here are just a few:
The High Rise Step-Up can help young children participate in a variety of other activities, too, like brushing their teeth, washing their hands, and standing at a higher surface to do art projects. It encourages exploration, creativity, independence, and communication. This product is durable and safely supports up to 125 pounds. I highly-recommend the High Rise Step-Up for families of toddlers and preschoolers, especially if the children are not in school (e.g. children of stay-at-home or work-at-home parents), as this will help provide opportunities throughout the day to participate in a variety of activities. It would also be great in toddler and preschool classes for children to gain independence in navigating the classroom environment.
BUY IT! You can purchase the High Rise Step-up for just $120.
WIN IT!
 What's great about this Guidecraft Educator group is that each month, one of us will be hosting a giveaway of the product that we have all reviewed. 
Visit Planet Weidknecht for a chance to win A High Rise Step-Up for a special child in your life. 
This contest is open to the US and Canada.
* I received the aforementioned products for free to review. The opinions expressed are honest and provided without monetary compensation.