This month's Guidecraft Educator product is this awesome set of Barnyard Activity Boxes. This is a very versatile set of six little barns, each with a different color, number, animal, and shape-sorting cut-out. The Barnyard Activity Boxes are great for children 18 months – 5 years old (monitor younger children to be certain they do not put the smaller pieces in their mouths.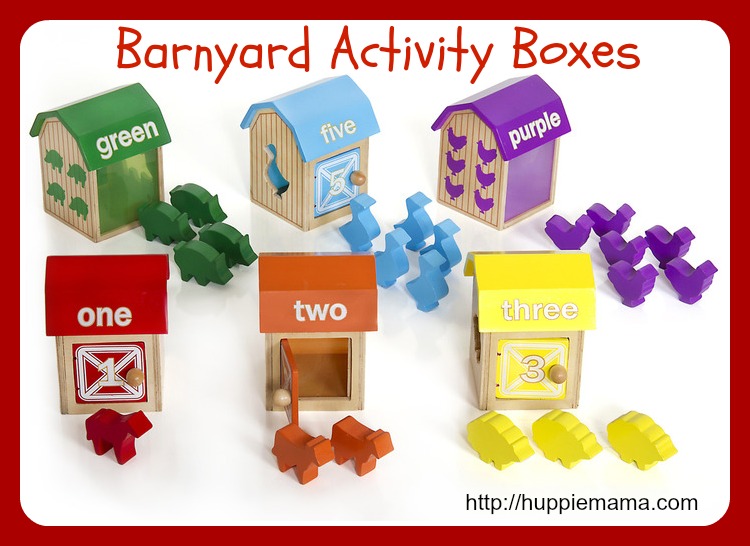 I was driving in my car thinking about the Barnyard Activity Boxes, and I came up with so many ideas for how they can be used in a classroom setting and how many different skills can be targeted using the different pieces:
Animal identification: Have children name the different animals (expressive identification) and identify the animals by pointing when named (receptive identification).
Sorting by color: Place all of the animals in a large bin and have children sort them into like-colored cups.
One-to-one correspondence: Trace the animals on to strips of paper (e.g. trace 4 pigs, 5 geese, 6 chickens). The children will place the corresponding pieces over the spot on each strip of paper.
Bilateral coordination: The child will hold the barn in his hand and use his other hand to open the small door and place the pieces inside. For an added challenge, have the child place the animals in the cut-out shape.
Paint stampers: Using washable paint, have the children dip the animals in paint and stamp on paper to make a farm picture.
Animal stencils: Children can use the animals as stencils to make their own farm pictures.
Imaginative play: While targeting a farm thematic unit, place these activity boxes in an imaginative play center with other farm-related toys.
Sound identification: Make each animal's sound and have the children point to the corresponding animal.
Math manipulatives: The animals can be used as math manipulatives to work on addition and subtraction.
We hosted a playdate at my house earlier in the week, and the children had fun playing with the Barnyard Activity Boxes.
One other aspect worth noting, and this pertains to many of the Guidecraft products, is the minimal amount of packaging used to contain the Barnyard Activity Boxes. All 6 barns and 21 animals fit neatly inside the cardboard box in which they arrived. The name of the product along with photos is featured on the box. Great for easy identification and storage!
Visit these other great blogs to read more Guidecraft Educator reviews:
BUY IT! The Barnyard Activity Boxes retail for just $44.95.
WIN IT! What's great about this Guidecraft Educator group is that each month, one of us will be hosting the giveaway of a product that we have all reviewed. This month, visit Mommy PR to enter to win a set of Barnyard Activity Boxes.
*I received the aforementioned product for free to review as a Guidecraft Educator. The opinions expressed are honest and provided without monetary compensation.