This review and giveaway is for three awesome Guidecraft toddler/preschool toys: Hide 'n Seek Shape Sorter (RV $26.50), See Saw Sorter (RV $16), and the Primary Puzzle Board (RV $25). These are wonderful for children 12 – 36 months old.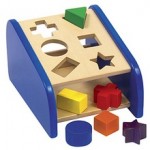 Guidecraft is known for creating high-quality, classic wooden toys, and this set of 3 different shape puzzles is no exception. The use of clear primary colors and familiar shapes make these puzzles inviting and engaging for young learners. The pieces are the perfect size for toddler and preschool hands. The pegs on the Primary Puzzle Board allow children to work on functional grasps. The Hide 'n Seek Shape Sorter and Primary Puzzle Board are on a slight incline, making them great for a variety of surfaces. The See Saw Sorter adds movement to the puzzle, which is a fun challenge for preschoolers.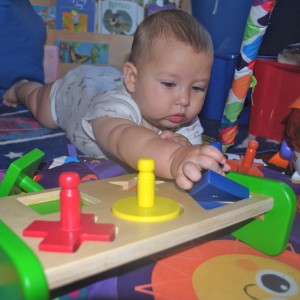 Bryce decided that at 6 months old, he was going to be a big boy who could do puzzles. This was actually a good tummy time activity for him! He did a great job grasping and lifting each shape. The bright colors seemed to gain his attention.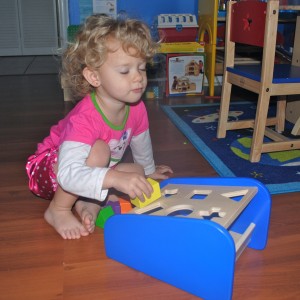 This shape sorter is simple for Lydia now, so we decided to modify it. We played a turn-taking game where we had to close our eyes, select a shape, and try to figure out where it goes by feeling around. She had a great time playing this way!
This puzzle is the trickiest of the three. First Lydia placed it on her lap with her legs crossed to stabilize it. Then she placed it on her lap with her legs straight to stabilize it. But finally she realized that it's supposed to be wobbly, so she put it on the ground and was challenged to place each shape in its proper position.
These puzzles would be perfect for a toddler/preschool classroom as part of a manipulative center to be played with on the floor or a table. They would also be wonderful for a classroom of elementary-age children with disabilities who are working on fine motor and visual skills.
BUY IT! You can purchase the Hide 'n Seek Shape Sorter (RV $26.50), See Saw Sorter (RV $16), and Primary Puzzle Board (RV $25) by visiting Guidecraft.
WIN IT! What's great about this Guidecraft Educator group is that each month, one of us will be hosting the giveaway of a product that we have all reviewed. I am hosting the giveaway this month. Just look at how you can quickly enter below!  (This contest is open to the US and Canada.)

* I received the aforementioned product for free to review. The opinions expressed are honest and provided without monetary compensation.