This should have been posted yesterday, but unfortunately I had a killer migraine last night (I'll blame it on the one-too-many mimosas I had at a bridal shower.) So for this week's challenge….
Don't eat this: gluten
Do eat this: wild-caught fish
Now, let me add two clauses to the above before giving my little lessons on gluten and fish.
1. Even though I've eliminated a good majority of my store-bought processed foods, I still enjoy baking. I eat gluten fairly regularly, although I have tried recently to replace white flour with alternative flours.  I don't plan on going entirely gluten-free this week, but at least thoughtfully eat gluten and eliminate when there is a better alternative.
2. The consumption of fish should also be done thoughtfully. As a former pescatarian, I used to rely on fish as a large part of the protein in my diet. Now, I don't eat fish too often, but when I do, I try to purchase fish responsibly. This challenge is just about remembering to eat good fish in moderation.
Working with children with autism and related disabilities 10+ years, I am no stranger to the gluten-free diet. When I first started teaching, I didn't 'buy into it' primarily because I didn't understand it. I didn't know what it meant to have a 'damaged gut'. Rather than walk you through my personal beliefs regarding the effects that gluten can have on one's diet, I'm posting a link to this article, Gut and Psychology Syndrome. It's written by Dr. Cambell-McBride, a physician and parent of a child with autism. The article is not specific, however, to just individuals with autism. It's really about how humans have damaged their guts with processed foods (including baby formula) and how we can work toward healing. Great read for anyone who has a child with ADD/ADHD, autism, sensory issues, digestive issues, etc. And for those of you who don't know much about it, you may be wondering…what is gluten?  Gluten is a protein found in foods processed from wheat (and also other grains, like barley and rye). It is what gives dough elasticity and shape and helps it to rise.
Now, being gluten-free doesn't mean eliminating all of your favorite snacks. When I do purchase a few snacks from Whole Foods, they include gluten-free and reduced-gluten snacks like Lundberg Rice Chips (which are also nonGMO-verified) and Mediterranean Snacks Lentil Crackers. There are many different types of gluten-free flour so you can also make delicious homemade snacks, like these Almond Flour Chocolate Chip Cookies.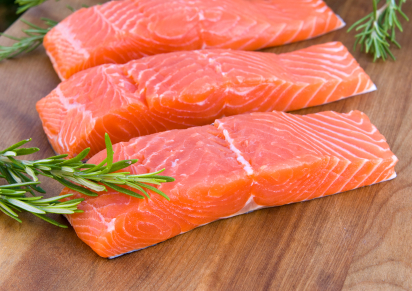 The topic of fish seems to be a hot one lately. Between the horrible conditions of most fish farms and the pollution in our oceans, there seem to be few good options. Remember my rant about Frankenfish? The thing is, fish should be a great source of protein and omega-3 fatty acids. It's always been an important part of my diet (and incredibly tasty) but responsibly eating fish is key. I went to a lecture with Dr. Sears, well-known pediatrician who coined the term "Attachment Parenting" and he spoke of the importance of fish in one's diet. Here's a link to Dr. Sears's fish recommendations. Some may completely disagree with what I write, but these are my views on eating fish:
1. I don't purchase any farm-raised fish. I know there are more responsible and less responsible fish-farming practices, but to me, why try to guess which is which? Easier to avoid. There are a few shellfish, like oysters, that are difficult to find wild in stores, so if you want to indulge a few times a year because you love oysters, I think that's okay.
2. I generally don't purchase fish in restaurants unless it specifically says it's wild. I know restaurants want to profit, so they are probably more inclined to purchase lower-quality fish to sell to consumers.
3. As often as possible, buy locally-caught fish. Living in Florida, we have snapper, grouper, shrimp, lobsters, and several other types of seafood caught locally. If you prefer to eat fish that is not caught near you, make sure you purchase from a trusted source.
4. Of course, we do need to worry about sustainability and endangered/threatened species. That's why I look at fish as more of a treat than an everyday entree. It doesn't have to be eaten daily – but occasionally because of the health benefits of fish.
5. If you are pregnant/breastfeeding, you also need to consider the mercury level in different species. Fish to avoid include solid white/albacore canned tuna, swordfish, shark, and tilefish.
Please let me know if I've forgotten to mention any important information regarding fish. Or, if I'm totally wrong, let me know, too. These are more my views than actual nutritional information (although I hope it's fairly accurate).
So who's up for the challenge?? What will you make this week?