I was so excited to sample these delicious products from Fischer & Wieser! Established in 1969 and owned and operated by members of the Fischer and Wieser families, the company lives by its motto "produce a quality product, and loyal customers will embrace it". Fischer & Wieser is committed to making high-quality specialty foods using sustainable business practices and environmental consciousness. Fischer & Wieser continues to produce distinctive and natural flavors, many of them award-winning, one jar at a time.We received two different products in the mail to try: Whole Lemon & Fig Marmalade (RV $6.95) and The Original Raspberry Chipotle Sauce (RV $9.95).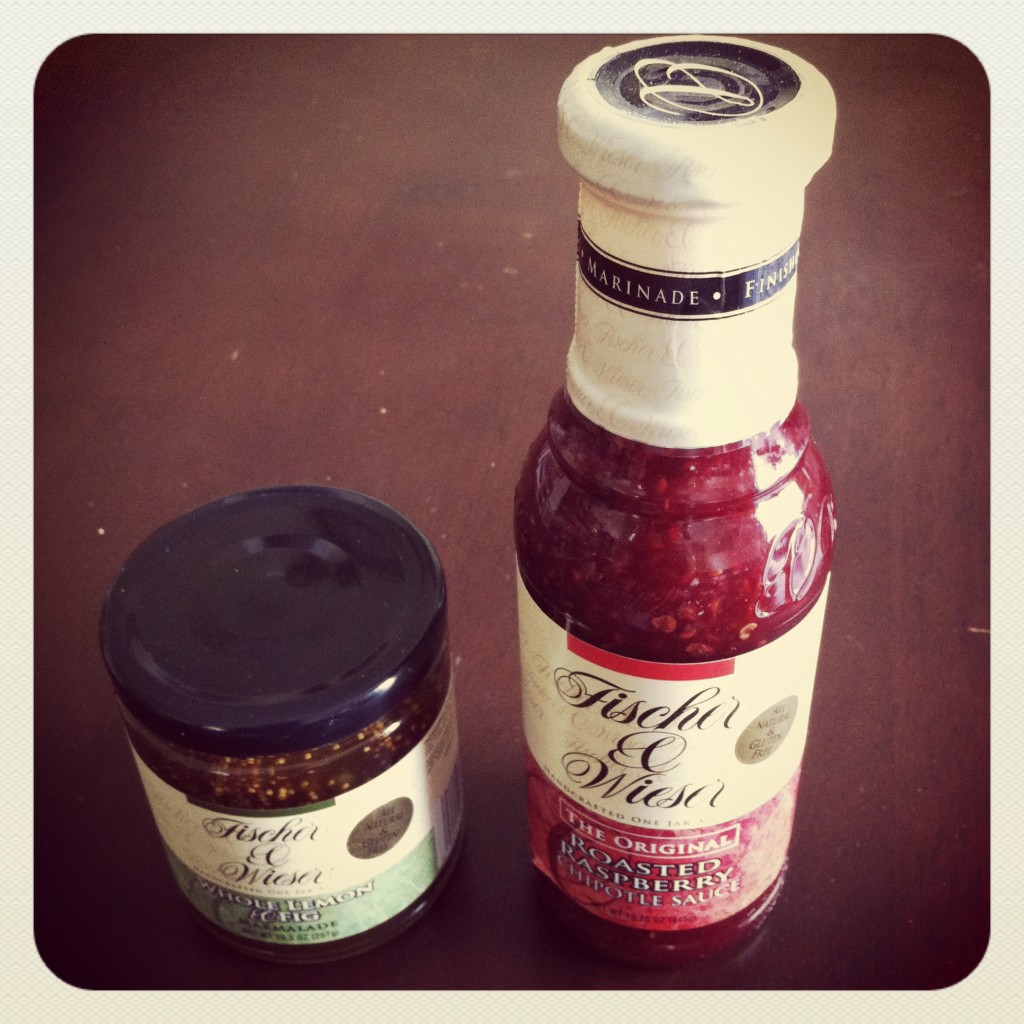 I thought the best way to review each product would be to use it in a delicious preparation. Here are my recipes to share with you. I tried the Lemon & Fig Marmalade first. I marinated a whole chicken in the marmalade for about 6 hours (along with a liberal amount of salt & pepper). I roasted the chicken in a covered dish in the oven at 400 degrees. I removed the lid when I had about 20 minutes of cooking time left to get a dark crust on the exterior. I also placed baby carrots in with the chicken. We served the carrots and chicken along with collard greens. The chicken was moist inside with a delicious, sweet flavor from the marmalade. I invited my sister over for dinner, and we all loved it!
Next up, I created a delicious sweet & spicy appetizer that took about 10 seconds to prepare. Just place a few tablespoons of cream cheese on a plate. Top with a few tablespoons of the Raspberry Chipotle Sauce, serve with crackers, and you have a crowd-pleasing appetizer. This would make a great dish for upcoming holiday parties. The sweetness of the raspberries pairs perfectly with the smoky, spicy chipotle flavor and the creaminess of the cream cheese.
I haven't tried it, but I bet you could marinade the chicken in the Raspberry Chipotle Sauce and pour the Lemon & Fig Marmalade over cream cheese to make two other variations using the same ingredients. Made with all natural ingredients, these sauces and jellies would make a wonderful holiday gift for the foodie in your life.
To learn more, 'like' Fischer  & Wieser on Facebook and 'follow' Fischer & Wieser on twitter.
BUY IT! Visit Fischer & Wieser to purchase the products described above along with other natural salad dressings, pie fillings, pasta sauces, salsas, and more!
*I received the aforementioned products for free to review. The opinions expressed are honest and provided without monetary compensation.