We often do family potlucks at my house with my sister and my parents. Usually it's a 'bring whatever you want' kinda thing, and we end up with something like baked ziti, chicken fingers, and cole slaw, but this past Friday, we actually chose a theme. I decided to go Caribbean after finding this delicious recipe for Pork Shoulder Roast in Food & Wine magazine. Here's my variation on the recipe!
Pork Shoulder Roast
Ingredients:
1 tablespoon extra-virgin olive oil
1/2 cup minced onion
2 large garlic cloves, minced
1 cup fresh lemon juice
1 cup fresh orange juice
2 tablespoons distilled white vinegar
2 tablespoons garlic powder
2 tablespoons onion powder
2 tablespoons freshly ground pepper
1 1/2 teaspoons ground cumin
1 tablespoon Worcestershire sauce
Salt
One 5-pound, bone-in Boston butt (pork shoulder, butt end) – I used a 7.5 lb butt
Directions:
1. I purchased this pork butt the morning I made it, so I had no time to marinate it. Instead, preheat the oven to 350° and set a rack in a roasting pan. In a small saucepan, heat the olive oil. Add the onion and cook over moderate heat until softened, about 5 minutes. Add the garlic and cook until fragrant. Add the lemon and orange juices and simmer for 2 minutes. Add the vinegar. Transfer half of the mojo to a blender and let cool. Refrigerate the remaining mojo.
2. Combine the garlic and onion powders, ground pepper and cumin. Add 2 tablespoons of the dry rub to the mojo in the blender. Add the Worcestershire and 1 tablespoon of salt and puree the marinade. (Pictured from left to right: pork butt, mojo marinade, dry rub)
 3. Rub the meat all over with the remaining dry rub and set it on the rack. Pour about 1/3 of the mojo in the blender over the pork, and do so about every hour, for a total of 3 additions of the mojo. Roast for 3 hours, until an instant-read thermometer inserted into the thickest part of the meat registers 150°. At that time, reduce the oven temperature to 275° and roast the meat for about 3 hours longer, until very tender and an instant-read thermometer registers 180°. Remove the roast from the oven and cover with foil; let rest for 30 minutes. (Pictured from left to right: Roast with the dry rub, Roast coated with mojo marinade)
4. When the roast is ready, slice and enjoy! You can serve it with the reserved mojo and the creamy jerk sauce recipe below.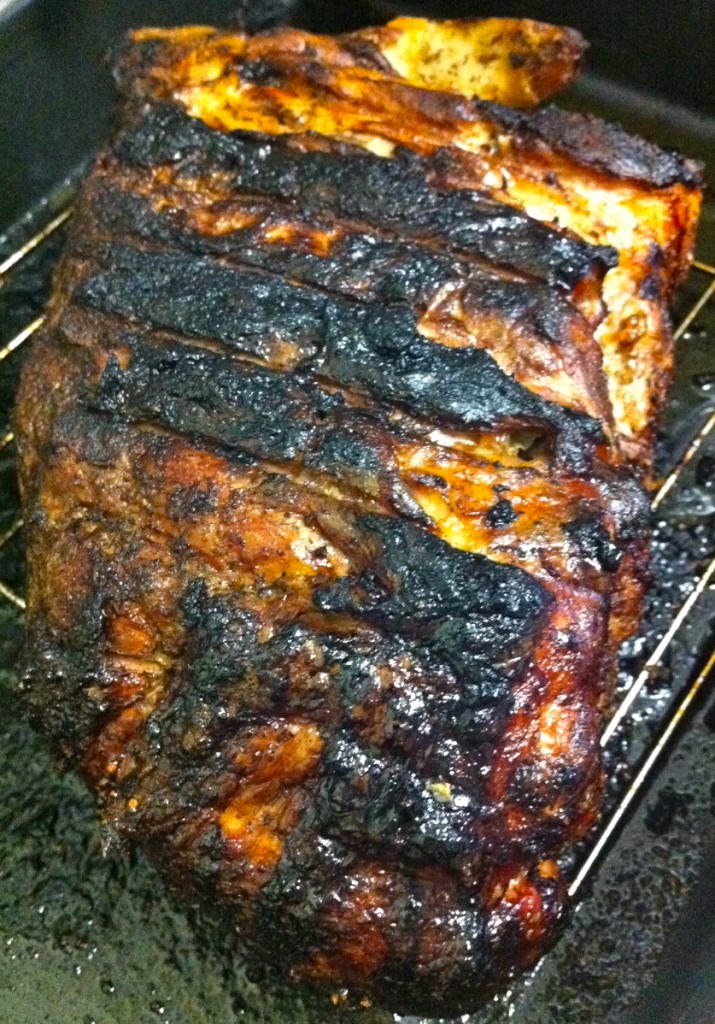 Creamy Jerk Sauce
Ingredients:
1/2 cup sour cream
1/2 cup mayonnaise
1 jalapeno
1 garlic clove
1/2 small onion
juice of 1 lime
1 T fresh ginger
1 T fresh thyme
Salt & pepper to taste
Place all ingredients in blender until pureed.
This was served alongside grilled plantains, brown stewed chicken, Jamaican rice & peas, and salad.
And for dessert, I made the Bonefish Grill Jamaican Coconut Pie with Rum Sauce. I made mine with unsweetened coconut, so it was less sweet and a slightly different texture, but still very yummy! And check out that awesome flambe on the rum sauce!